Event
Modern Hydronics Summit 2021
Print this page
---
March 30 - March 31, 2021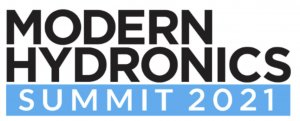 Coming March 30 & 31, 2021
The 5th edition of Modern Hydronics – The Summit is going virtual for 2021.
HPAC Magazine takes great pride in assembling the Canadian hydronics community every two years for informative presentations and the ability to view the latest products and services being offered to the industry.
For 2021 the event is being taken online and has been split into two half-days, Noon-3:30 pm (eastern time)  where hydronic professionals can visit all the exhibitors, network with colleagues and take in more excellent educational sessions.
And all of these sessions will be available on-demand for two months after the event.
And thanks to the generous sponsorship of Resideo, the Modern Hydronics Summit 2021 is 100% FREE TO ATTEND!
Visit event's website
https://pheedloop.com/modernhydronics/site/home/
---
Print this page