Event
Why air-to-water heat pumps are a market opportunity for hydronic professionals (webinar w/ John Siegenthaler)
Print this page
---
September 22, 2020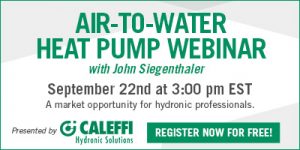 There's a worldwide trend underway that will undoubtedly affect the future of North American hydronics technology, and that trend is away from fossil-fueled boilers and toward electrically powered heat pumps.
This trend presents a significant opportunity for hydronic pros that are ready to take advantage of it using modern air-to-water heat pump systems.
This free webinar, presented by Caleffi Hydronic Solutions and hosted by regular HPAC Magazine contributor John Siegenthaler, will introduce the basics of air-to-water heat pumps, describe why they will be a new niche for hydronic professionals, and show some basic system configurations.
The webinar runs on Tuesday, September 22 at 3 p.m. (eastern time).
Attendees will see how their current knowledge and skills in crafting modern hydronic systems can be leveraged around this new heating / cooling source.
LEARNING OBJECTIVES:
Understand the basic operation & performance of air-to-water heat pumps
Grasp global trends that will increase this market niche
Understand the importance of low water temperatures in air-to-water heat pump systems
Learn how to configure a basic system for heating and cooling
Visit event's website
https://register.gotowebinar.com/register/5383436937349253644
---
Print this page