New codes, regulations and policies change landscape for mechanical industry
February 17, 2017 | By Robert Waters
The HVAC and plumbing industry in Canada is in for some profound changes with the coming wave of new building codes, policies and regulations. All levels of government–federal, provincial and municipal–are pushing hard to go green and reduce the impact of greenhouse gas emissions and climate change.
Since the federal Liberal government was elected in 2015, there has been newfound attention placed on environmental and climate change issues that was absent during the Harper years. There is also a renewed cooperative spirit between federal and provincial governments. The recent Energy Mines and Ministers' Conference (EMMC) is an example of this.

The EMMC published a federal-provincial framework in August 2016 to "Encourage Market Transformation Through Collaboration on Energy Efficiency Standards." The EMMC vision statement describes a future "where federal, provincial and territorial governments define joint priorities for energy efficiency standards and engage in coordinated activities on standards to drive greater, more cost-effective actions to reduce greenhouse gas emissions and promote energy conservation."
The impact of new codes and regulations will trickle down to the heating industry. One area that will have a big impact on mechanical systems in the future will be new building code requirements to build more and more energy efficient and air tight buildings. These buildings will have extremely small space heating loads.
The ultimate target of most governments seems to be to get to a level of Net Zero Energy Ready standard by about 2030. A Net Zero Energy (NZE) home is one that is designed and constructed to produce as much energy as it consumes on an annual basis. A NZE Ready (NZEr) home is a NZE home that has not yet installed the renewables.
All new homes are required by law to comply with the most current Canadian building code. The National Building Code continues to increase the minimum energy performance requirements and is updated approximately every five years. There are currently a number of voluntary low energy building standards in place, such as ENERGY STAR, R-2000, Passive House and NZE.
There has been a large growth in these low-energy homes in Canada and this will certainly continue as builders refine more cost effective techniques to meet these standards. ENERGY STAR homes are 20 per cent more energy efficient than homes built to the current code. R-2000 homes are 50 per cent more energy efficient than homes built to code. NZEr homes are up to 80 per cent more energy efficient than homes built to the current NBC 9.36 with the biggest impact on the space heating load, which drops dramatically. A full NZE home will also include on-site energy generation with renewables (mostly solar PV panels) and due to the renewable energy production, its energy performance is 100 per cent better than homes built to code.
In September, 2015 the Canadian Home Builders Association (CHBA) launched a pilot of the NZE labelling program, which will provide the industry with a clearly defined yet rigorous two-tiered (NZE and NZEr) technical standard that will distinguish and recognize builders and renovators and their NZE homes. Version 1 of the program will be launched in early 2017.
While the timing of new building code standards is not fully defined yet, the mechanical industry is starting to see the impact of dramatically smaller heating loads. The traditional home heating system used today consisting of a furnace and tank type water heater, is likely to be quite different in the future. Exactly what shape those changes will take will likely vary by region and new technology development.
Chair of the NZE Housing Council Andrew Oding is a senior building science associate with Building Knowledge Canada and he works intimately with the NZE housing market. Oding sees several trends emerging with mechanical systems in low energy buildings.
"Space heating loads drop dramatically (to the 20 to 30 MBH level) in NZEr homes, while the DHW load stays the same or even increases. This makes it extremely important to have a DHW appliance that is smart, very efficient and can run at variable loads," said Oding. "Combo systems are gaining in popularity with builders as they provide a good solution for the space heating and DHW demands of a low energy home."
Another trend that Oding sees emerging is dual fuel systems that combine a small gas furnace with an air source heat pump. "This will allow the homeowner to have the ability to make a choice that could be based on performance, fuel cost, and future carbon taxes," noted Oding. He sees heat pump technology gaining in popularity due to increases in cold weather performance and the option for builders to have an all-electric solution that eliminates the need for running a gas line into the building.
A closer look at combination systems for space and water heating shows that governments and R&D labs have been looking intently for some time at these systems as a great way to meet the demands of low energy homes. A recent Canadian Gas Association study done by CanmetENERGY did a comparison test of a high performance combo system and a regular heating system with a high efficiency furnace and storage tank water heater.
The test was done in February and March of 2016 at the Canadian Centre for Housing Technology (CCHT) in Ottawa, which has two identical houses – a reference house and a test house. These houses were built to the R-2000 standard. They feature identical simulated occupancies and are monitored extensively for energy performance and thermal comfort. The reference house mechanical system consisted of a 96.3 per cent AFUE, two-stage, 25 to 40 MBH furnace, and a 40 USgal, 40 MBH, power vented storage tank water heater with a 0.62 EF. The test house used a 15 to 150 MBH condensing tankless water heater, with an EF of 0.97 and a 73 MBH air handler.
The month-long test results showed that the combo system outperformed the reference house, using approximately four per cent less energy. This shows a promising result for combo systems, which may increase their use for future low-energy homes with low heating loads and large DHW loads.
Cold climate air source heat pumps (CCHP) are another technology option that is also being studied by governments and R&D labs. CCHP's provide an efficient all-electric solution for smaller heating and AC loads, which appeals to many low-energy builders. Cold outdoor air temperatures in many areas of Canada have typically limited the effectiveness of air source heat pumps and this has hampered their market penetration. That could change with low temperature heat pumps. NRCan CanmetENERGY research experts currently have a Cold Climate Heat Pump (CCHP) five-year strategy, with R&D and field verification programs. The intention is to make CCHP's more effective at lower temperatures and affordable for Canadians. And because they run on electricity they are being looked at as a way to reduce carbon emissions.
Ventilation is a necessity in a low-energy home due to their air tight construction. HRVs have been used extensively for low-energy homes for many years, but an emerging trend is towards the use of ERVs. Oding stated that as homes get tighter, latent loads often get higher and ERVs do a much better job of handling this. ERVs also work better with summer AC loads, especially in areas with high summer humidity. New developments in ERV core technology has also allowed them to perform much better in colder climates.
So while the type of heating system appears to be in for some change in the future, individual heating appliances themselves are also in for some changes.  The days of lower efficiency appliances appear to be numbered due to new NRCan Energy Efficiency regulations. NRCan has four regulatory amendments planned by 2020, which will impact just about every type of energy consuming device.
The mechanical industry will see big changes with updated energy efficiency requirement for water heaters, furnaces, boilers, heat pumps, chillers, air conditioners. Amendment 13 was finalized in December 2016 and comes into effect on June 28, 2017. This will impact central air conditioners and heat pumps, gas and oil-fired storage water heaters and packaged terminal AC and heat pumps.
Amendment 14 and 15 are in the works now and will come in to effect in 2018 and 2019 respectively. These amendments will affect a wide range of appliances from gas fireplaces, gas and oil boilers, tankless water heaters, gas and oil furnaces, commercial boilers and water heaters, and large air conditioners and heat pumps. So the energy efficiency bar is being raised for all mechanical equipment and there certainly seems to be a big push to get to condensing efficiency's for most categories. It appears that traditional lower efficiency, non-condensing appliances are being regulated out of existence.
Trends seem to indicate that natural gas (NG) use may be in for some challenges in buildings of the future, as in some cases builders will choose not to run a gas line into the building at all, and just go all electric, or some jurisdictions will make it difficult or impossible to use NG. The recent City of Vancouver "Zero Emissions Building Plan" is a good example of what we could be seeing more and more of in the future. Vancouver plans to eliminate all emissions from newly permitted buildings by 2030 and have only renewable energy sources in all buildings by 2050.

Vancouver City officials deny that this is a "ban on Natural Gas" but this is effectively what will happen. Many concerned industries, gas utilities and citizens have objected to Vancouver's plan due to the potential for supply issues and dramatically higher energy costs.
Not everyone is against Vancouver's Zero Emissions plan however, as the Pembina Institute recently stated:  "We think the city's Zero Emissions Building Plan will serve as a blueprint for the rest of BC and beyond. In addition to reducing emissions and energy use, the plan will lead to improvements in the quality of homes and buildings. This plan will be an important catalyst in the local, clean, low-carbon economy".
So far the City of Vancouver has not shown any signs of backing down to those who object to their plan. Only time will tell how this plays out in Vancouver and other jurisdictions.
The low-energy, water-conserving building is here to stay and will only see tighter requirements come into effect as time goes on. The Climate Action Plans of many levels of government are pushing this agenda forward fast. This will lead to many changes, challenges, and new opportunities for the heating and plumbing industries in Canada.
Plumbing codes tighten up water usage
The plumbing industry is also experiencing changes as a result of the committed focus on efficiency and conservation. Water-use efficiency is an objective within the 2015 National Plumbing Code. Mandatory water-use requirements are being introduced for plumbing fixtures and fixture fittings that include toilets, urinals, lavatory supply fittings, kitchen supply fittings and showerheads. For toilets the new maximum water usage per flush cycle have been set at between 4.8 and 6.0 Lpf, with urinals limited to 1.9 Lpf.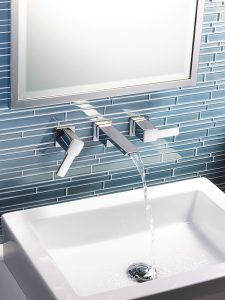 The water usage will depend on the type of application. Lavatory and kitchen supply fittings will be limited between 1.9 and 8.3 L/min flowrates, while shower heads will be limited to 7.6 L/min. Another method of conserving water is to use a rainwater harvesting system, which are currently being installed and regulated in a number of Canadian jurisdictions. To address this, proposed enabling requirements have been developed for the 2020 edition of the NPC.
In the low-energy buildings of the future, wasting water will be discouraged as much as wasting energy.
Rob
ert Waters is president of Solar Water Services Inc., which provides training, education and support services to the hydronic industry. He is a mechanical engineering technologist graduate of Humber College and has over 30 years experience in the hydronic and solar water heating. He can be reached at solwatservices@gmail.com.
Advertisement