CMPX 2022 Product Spotlight
March 15, 2022 | By HPAC Magazine
We canvassed manufacturers and their representatives to share what visitors can expect to see at this year's show, and as a result we over 100 items listed.
Finally, after four years since the last edition, the Canadian Mechanical and Plumbing Exposition (CMPX) returns to the Metro Toronto Convention Centre in downtown Toronto from Wednesday, March 23 through Friday, March 25.
The national event, jointly produced by the Heating, Refrigeration and Air Conditioning Institute of Canada (HRAI) and the Canadian Institute of Plumbing and Heating (CIPH), brings together people from across the plumbing and HVAC/R industries for a loaded three-day gathering to get exposed to new technologies from the hundreds of exhibitor booths on the trade show floor.
We canvassed manufacturers and their representatives to share with us what visitors can expect at this year's show, and as a result we have over 100 items in the following extensive CMPX 2022 Product Spotlight:
Sauermann will present a new range of compact and intuitive combustion analysers. The Si-CA 030 offers everything needed to inspect and maintain residential and commercial boilers, with wireless connection and automatic generation of servicing reports and certificates. The Si-CA 130 features a touch-screen display and comes with PC-based management software, and the three field-replaceable cells and sensors offer expanded measurement capability.
sauermanngroup.com
###
American Standard will be showing their new Ultima Flush Valve. Its self-cleaning technology prevents valve run-on due to clogging, and ADA-compliant non-hold open handle provides automatic shut-off after every flush. High back pressure vacuum breaker also prevents dripping. It uses the PWRX 10-year battery for less downtime and maintenance. Sleek, contoured design offers a clean rinse and water savings.
###
Amvic's Insulated Pex Panels are designed for hydronic radiant floor heating systems either in new construction or for renovations. Well suited for basements, bathrooms and other living areas in the home, the panels can also be used outside for snow and ice melt applications on driveways and walkways. The easy to assemble panels allow for snap-in walk on installation with no staples or ties required.
###
Liberty Pumps will show the ProVore grinder pump for residential applications featuring the company's V-Slice cutter technology that's capable of grinding heavy solids while being powered by a 1 hp motor. The smaller grinder is designed to operate on a standard 115- or 230-volt circuit – requiring only a 20-amp breaker.
###
Olimpia Splendid will show its Maestro Pro Series through-the-wall heat pump units offering comfort and operating cost savings due to its inverter drive compressor and variable speed motor, which also contribute to its quiet operation. They offer heating and cooling up to 11,600 Btu/h. With no outdoor unit, the systems are easy to install and maintain.
###
The Flexi-Rooter 100 from General Pipe Cleaners is a flexible shaft machine using the company's ClogChopper cutter in combination with its carbide-tipped chain cutter (pictured), a combination capable of clearing the toughest stoppage. The machine is flexible enough to handle 2.-in. lines and tough enough to clear roots in 4-in. lines.
###
The new Vitocrossal 200 CI2 from Viessmann, available Spring 2022, is a compact floor standing gas condensing boiler designed for large residential and commercial applications. With six sizes from 399 MBH to 2000 MBH, the series features 97.5% thermal efficiency, up to 30:1 turndown and active self-calibrating O2 Trim Technology. The 7-in. colour touchscreen control panel connects to the Viessmann One Base platform for easy installs and maintenance.
###
CashAcme's EB25 Plus PRV brings state-of-the-art water control technology to pressure regulators. Accurate flow control and pressure regulation eliminates costly multi-valve installation, such as high-low valves installed in parallel to meet varying flow requirements or multi-valves installed in series to reduce high inlet pressures to desired line pressure. Designed to service water installations that experience wide variation in water demand CashAcme is part of the RWC family of brands. cashacme.com
###
Gripple will present its new Fast Trak bracket, offering no cutting, mess or hassle. Perfect for a range of mechanical and plumbing applications, the brackets provide speed, flexibility and efficient use of space, for the installation of pipework, ductwork and other mechanical services in restricted places. Indicators at each end of the bracket offer a measurement guide when marking fixing points on the ceiling.
###
Arkema will show their Replacement Solution (410A). Developed for air conditioning as well as some medium temperature refrigeration applications. The new refrigerant provides a 50/50 blend of HFC-32 and HFC-125. Accepted by all air-conditioning OEMs for new AC systems. It includes higher refrigerating capacity and pressures than R-22. Users can expect zero ozone depletion potential.
###
The ZEN air curtain from Rosenberg provides a decorative, minimalist design for blending with any building's aesthetics and offers options for customization. Logos, lights, infographics, or clocks can be incorporated into the design. Double-inlet centrifugal EC fans are available for low-noise and energy-efficient applications. Heating options are also available. Units can also be installed in either horizontal or vertical positions.
###
Navien's NPE-2 series condensing tankless water heaters feature an EZNav advanced multi-line control panel with Setup Wizard, high efficiency up to 0.96 UEF, 2-in. PVC venting up to 75-ft., cascade capability up to 32 units and common vent capability up to 12 units. Like the NPE, NPE-2 offers dual stainless-steel heat exchangers and patented ComfortFlow recirculation system with built-in pump and buffer tank on the NPE-A2.
###
Grohe's new Grohesafe 3.0 PBV valve allows the body to be tested and flushed without the presence of the valve cartridge. The valve can also be tested using flush plug with air (200 psi) or water (300 psi). Stainless steel retaining ring with flats secures flush plug and cartridge, eliminating the need for screws. Flat back allows the valve to be mounted flush against cross brace for easy and solid installation.
###
Winters has added its 'LF' Series of lead-free products which comply with the U.S. Drinking Water Act and Canadian National Plumbing Code. 'LF' Series pressure gauges also provide a higher level of quality assurance as they are NSF 61 and 372 tested and certified. Winters continues to offer responsible lead-free products for all applications, including drinking water.
###
One mode of SARS-COV2 exposure is inhalation of fine droplets and aerosols carrying virus. Improper ventilation can result in pathogen buildup, while increased ventilation can dilute pathogens. RenewAire energy recovery ventilation (ERV) can increase ventilation while reducing energy costs by reusing otherwise-wasted energy. Available in many sizes/configurations, RenewAire's ERVs include EC Fans, boost-mode for on-demand increased ventilation and controls.
###
Powrmatic will showcase their Direct Air Magic Pro System inverter with heat pump and air handler capabilities. The system is designed to provide flexible and compatible HVAC solutions for every home or business. Details include low ambient heat output: 100% output at -15C with COP up to 2.0, 75% output at -25C.
###
Roth will show its new stainless-steel manifolds (RSS). Constructed of non-polished stainless steel, they are available in 1-in. and 1-1/4-in. trunk sizes and 2 to 12 loop connections. They include straight isolation ball valves on trunk supply and return connections with temperature gauges, fill/drain/vent tees with ¾-in. garden hose thread, 1/4 turn valve and manual (coin) vent and ¾-in. euroconical compression fittings (R20) to attach tubing to manifold inlets/outlets.
###
The Hex Drain by Serenity (an OS&B company) will be on display by bronte Collection. The shower drain design is available in four finishes, including a brushed gold and matte black (pictured). The symmetry of this centre drain is aesthetically pleasing and it's craftsmanship that can be relied upon for years.
###
ZAbluefin centrifugal fan from ZIEHL-ABEGG is great for data centers, AC/AHU, wind energy, compressors, etc. It is adapted to intelligent ECblue motor technology (IE5) for the highest system efficiency values for every application. Biomimetic free-running wheel including 5 backward-curved blades in sizes 250 to 1,120 mm. is available for a new level of performance.
###
The Imperial R2 Exhaust/Intake Hood is suited for bath fan and range hood ventilation. It features a durable, air-tight galvanized steel construction for energy efficiency and maximum airflow. It also includes a screen and a removable damper to easily be converted into an air intake hood if needed and is available in 4-in., 5-in. and 6-in. to meet a variety of needs.
###
The MagnaClean CMX range of 316L stainless steel side-stream filters from ADEY deliver adaptive filtration for removing damaging magnetic and non-magnetic debris from small to large, closed-loop commercial and industrial hydronic systems. Each model provides adaptive filtration capabilities through a combination of powerful magnets, filter cartridges and needlefelt bag filters, as well as acting as a chemical feed/pot filler.
###
Aqua-Tech will be showing the Lochinvar EPIC fire tube boiler and fire tube combi boiler for residential applications. With four boiler models ranging from 80,000 to 199,999 Btu/h and three combi models ranging from 110,000 to 199,999 Btu/h, the EPIC line-up offers easy installation and serviceability, instantaneous response time and a user-friendly interface. The units feature a 10:1 turndown and up to 95% AFUE.
###
Procore construction management software manages projects, resources, and financials from planning to closeout. The mobile project management software improves efficiency by connecting field and office for real-time visibility. The solution saves time throughout the tendering process with features that let users distribute information, collect tenders and track coverage all in one place.
###
Chemfax will be showing Chem Frost 100%, a heat transfer fluid that is non- toxic, environmentally friendly and approved by the Canadian Food Inspection Agency. Safe for all heating systems, including aluminum and solar, Chem Frost uses premier inhibitors and has a higher temperature rating and lower viscosity than most other inhibited propylene glycol.
###
The Hisense S-Series Heat Recovery VRF system can provide heating and cooling with heat recovery between different climate zones. The S-series utilizes hi-heat vapour injection scroll compressor technology that provides low ambient heating down to -25C outdoor temperature while maintaining heating capacity and COP.
###
Prier has expanded its outdoor hydrant valves with the hot and cold water True-Temp (P-118) and the cold water Cool-Temp (P-114). Available in oil-rubbed bronze or satin-nickel finish, the design has an ergonomic, rubber-grip handle for easy operation. Each outdoor faucet is freezeproof, self-draining, and includes an anti-siphon vacuum breaker and backflow check valve.
###
Cameron Instruments has introduced the Mako by Arbiter. The product represents a new tool for the backflow and cross connection control industry, providing a water-resistant digital solution with benefits and features unseen in a traditional mechanical (analog) gauge. The Mako can perform all standard backflow testing procedures and is designed for rugged field use and high accuracy.
###
Bradford White's AeroTherm series heat pump water heater provides energy star efficiency certification for year-round energy savings, flexibility (four operating modes and three capacities – 50-, 65- & 80-gallon). It is designed for indoor installation such as basements, garages, closets and utility rooms. New electronic controls make it simple to change the temperature or operating mode.
###
Saniflo's new Sanicom 2 – 2-HP Duplex Commercial Drain Pump is capable of handling up to 194F/90C high-acidic water. The pump processes large volumes of high-temp water, grease, or chemicals and discharges grey water up to 32 ft. vertically/390 ft. horizontally. It is also designed to keep maintenance to a minimum.
###
Mitsubishi Electric's QAHV commercial hot water uses CO2 as refrigerant, an environmentally-friendly, natural refrigerant which has zero ozone depletion potential. As the industry strategizes to meet GHG reduction targets in Canada, understanding water heating technology utilizing low GWP and low ODP natural refrigerant over conventional fossil-fuel solutions will be important for the future of the built environment.
###
A new generation of vacuum pumps from Fieldpiece cut down evacuation time and make oil changes on the fly easier. They are lightweight, durable and feature four in-line ports, plus a large oil reservoir window. When users attempt to change the oil, the process is quick and clean, as the window is now removable and the pumps have a wide mouth fill port. The oil can be replaced in under 20 seconds.
###
Spartan will present the VN series valve, the first NSF Rated, UL certified, globe-style control valve. Cast from C87850 EcoBrass, dezincification resistant, lead-free brass. The VN series also features a G-type connection compatible with quick connect unions from leading manufacturers, to reduce labor and simplify installation. VN series also maintains compatibility with all Spartan PD actuators.
###
NAVAC will showcase their new cordless NTE11L BreakFree Power Tube Expander. The product offers efficient and precision expansion for tubes in the 3/8-in. to 1-1/8-in. range. It expands a tube in 12 seconds by pressing just one button. Long-lasting rechargeable lithium battery allows up to 200 expansions on a single charge. Its Quick Connect design helps switch heads in two seconds, saving time when working with different diameter tubes.
###
KeepRite's new Quiet Condensing Unit is well-suited where space limitations, energy efficiency or sound levels are of concern. Designed for refrigeration duty, a wide range of options provide flexibility suitable for a variety of applications – and now features advanced control and communication capabilities. Its compact and stylish design make the Quiet Unit suitable in urban or light commercial applications.
###
Panasonic's WhisperAir Repair air purifier features nano X technology that uses moisture in the air to neutralize pollutants. These air purifiers maintain healthy indoor air quality by suppressing airborne and adhered pollen and other allergens, inhibiting odours, and breaking down hazardous substances. Suitable for remodels, retrofits or new construction, WhisperAir Repair can be mounted in most ceilings.
###
RLS will launch its 1-5/8-in. and 2-1/8-in. couplings, tees, elbows and reducers. The XL fittings are developed for use with a 32 kN tool to press and RLS actuator jaws to complete the press cycle. The XL press fittings provide an alternative for commercial contractors that install or maintain large refrigeration systems and cold rooms designed for grocery stores, shipping centers, manufacturing facilities, among other applications.
###
Masco Canada will unveil its Copper Defense technology alloys from Delta faucet. The series of plumbing products feature an advanced copper alloy finish that exhibits antibacterial properties. Laboratory testing has shown that when cleaned regularly this surface kills greater than 99.9% of bacteria within two hours and continues to kill 99% of bacteria even after repeated contaminations.
###
Kane Canada will be showcasing their residential/commercial combustion analyzer. The large six-line backlit display and wireless connectivity gives users freedom in the palm of their hands. Features include differential pressure and temperature ratings and three types of sensor protection. The units provide predictable cost of ownership and all Kane analyzers are available with up to a six-year warranty with annual recertification.
###
PlumbSmart by Zurn provides a single source for managing and monitoring a connected plumbing ecosystem. Teams can keep an eye on  Zurn Connected Products' operational statuses, analyze performance trends, and ensure everything is under control. Building owners can customize system alerts to align with their unique operational parameters and communication preferences.
###
Triangle Tube's Instinct floor standing boilers include a Caleffi 548 series separator (shown mounted), left or right-side boiler and gas connections, Wi-Fi connectivity (Tsync), CTRLMAX 60-second setup, a stainless-steel fire tube heat exchanger, the company's peace of mind warranty, and combi units offer 5-plus GPM DHW output. Units are available in Solo 110, 155, 199 and Combi 155, 199.
###
Zoeller will be showing its Qwik Jons grinder pumps, a modern design is for residential and light commercial use. Qwik Jons simply attach to a toilet with the option to connect additional fixtures. With the Qwik Jon there is no need to break concrete or install gravity drainage pipes. The quiet systems allow any space to become a bathroom with minimal mess, cost and time.
###
Milwaukee will show their new 6-in. leveling tripod chain vise. The product offers hassle-free deployment and new stable-lock functionality. The tripod chain vise delivers lifelong steadiness for tradesmen installing pipe, conduit, and other materials. Specifications include pipe capacity: 1/8-in. – 6-in.; leveling adjustment: +/- 3 degrees; storage height: 49.5-in.; and storage depth: 5.25-in.
###
Sioux Chief will exhibit its water hammer arresters. The new piston design allows for the longest life of any arrester model offered by Sioux Chief. Testing has shown endurance cycles up to 500,000 without failure. Arresters are made in the USA with all-American copper, brass and stainless-steel materials. New connection options save the installer time and money, while eliminating costly transition joints.
###
Bitzer Canada will be presenting ecoline reciprocating compressors with IQ module. Users can expect reliable operation within the compressor application envelope as the IQ module controls and coordinates all peripheral compressor accessories and controls. The compressors offer high efficiency, a wide range of applications, flexibility in refrigerant selection, smooth running, solid design and high reliability.
###
The make-up air unit (MUAA) from Stelpro delivers temperate fresh air and ensures a well-ventilated, comfortable home for occupants. Its continuously modulating heating elements allow the unit to heat fresh air at a low cost. Compact and flexible, the MUAA can be installed in a variety of positions (vertical, horizontal, up or down) and can also be installed in confined spaces. This unit meets indoor air quality standards.
###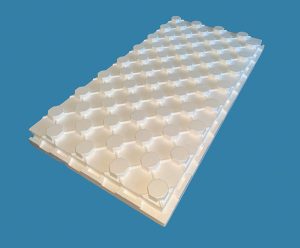 Smart Sheet floor heating panel from Smart Hydronics is an all-in-one solution product, that provides insulation, and holds PEX pipes in place for easy installation. With the sheets' 3D edge tongue and groove design, when interlocked together the panels will be placed only in the correct nub aligned position. The negative angle of the nubs helps easy walk-in installation of the PEX pipes without the need of staples.
###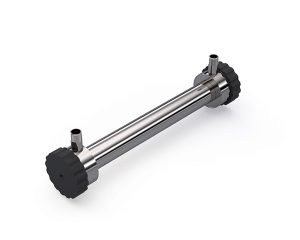 Acuva's ArrowmAX Home is a UV-LED water purification system that treats water as it enters the house before being dispensed from faucets, hoses, or showerheads without the use of chemicals. Acuva's water purification systems kill up to 99.9% of bacteria and viruses. The ArrowMAX Home also features a mobile app, with notifications when it's time to change the pre-filter and other important system information.
###
The Lovato Electric ADXL series of soft starters has a rating of 18 to 320A, performs two-phase control and provides advanced features for motor starting, stopping, monitoring and protection. The current transformers (CTs) in ADXL devices constantly monitor the current and their control algorithm keeps the currents on the individual phases well balanced during starting and stopping.
###
Calorek Technologies will be showing their variable capacity geothermal and air-to-air heat pumps with zoning systems. The products offer integrated zoning system for water to air and air to air heat pump central systems. Manufactured in Canada, the integrated outdoor temperature sensor algorithm helps manage the heat pump heating capacity as per outdoor temperature. No buffer tanks are needed with water to water units.
###
SBI will show Caddy Advanced wood burning furnaces. The furnace's self-regulated combustion promises constant heat, while requiring minimal effort on the users' part. Just load the furnace, adjust the temperature, and enjoy the heat for hours. The system automatically adjusts the air supply so that combustion is optimized and synchronized with the thermostatic demand.
###
Dobbin Sales will show the Sloan AER-DEC integrated sink system. The AER-DEC combines soap dispenser, faucet, hand dryer and sink basin into one, touch-free, hygienic and efficient system. Users can soap, rinse and dry their hands without reaching for paper towels or walking to a separate dryer—so restrooms stay neater and require less cleaning.
###
Weil-McLain Canada's SVF (Stainless Vertical Firetube) commercial boiler features a high-water-volume fire tube design and delivers thermal efficiencies of up to 97.1%. Available in six sizes, up to 3000 MBH, it is ideal for a wide range of commercial applications. It's Advanced Unity control system has a built-in set-up wizard. It offers up to a 10:1 turndown ratio. And the units are available in natural gas and propane.
###
Uniweld will present an electric/manual ratchet flaring tool specifically designed to meet R-410A flaring specifications and all 45-degree flares for soft copper, brass and aluminum tubing. An internal break-away clutch disengages when flare is completed, preventing over flaring and crushing the copper tubing, and an automatic tube stop height gauge allows for a perfect R-410A flare during every use.
###
Taco's System M is a complete packaged air-to-water heat pump system for residential heating, cooling, and domestic hot water. Available this summer, the pre-assembled indoor and outdoor units simplifies installation. This innovative system, designed for a low carbon society, is solar PV and smart grid ready, has a sleek user interface with smart phone app control, and provides up to 44,000 Btu/h and 3 1/2 tons of cooling.
###
Miura Canada will be featuring LX and EX steam boilers and full water treatment solutions. The LX and EX modular steam boilers provide full steam output within five minutes from cold start-up. Faster start-up means less fuel used, greater savings and more responsible use of environmental resources. Miura water treatment systems can protect boilers from harmful mineral buildup and scale.
###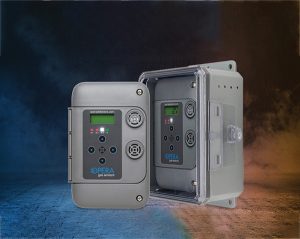 Belimo's gas monitor devices offer an intelligent peer-to-peer communication protocol that gives users flexibility to configure and install a complete ventilation control system with one monitor or dozens operating in multiple ventilation zones. The monitors provide accurate and reliable measurements with enhanced communication, enabling expanded system integration and BMS control with BACnet.
###
Foremost will show the ICU Barrier sink. This product is designed with health and safety of hospital settings in mind. Without an overflow and its slanted deck, these features help prevent contamination and water from pooling around the faucet. It is also glazed with Pro Guard glaze, a self-cleaning technology that helps reduce the build-up of germs, mold, mildew and stain causing bacteria.
###
The Argus from Tecumseh is a low and medium temperature commercial condensing unit with indoor and outdoor configurations. Focusing on the ½- to 6-HP capacity range, Argus is optimized around HFO-blend refrigerants and exceeds the AWEF requirement by up to 15%. Ideal for walk-in coolers and freezers, Argus provides restaurants, grocery and convenience stores performance to keep produce and other products fresh.
###
The Array SE condensing boiler is the newest addition to Riello's Array boiler family. The single heat exchanger design is available in capacities of 399 and 500 MBH. Its compact design includes many features, including Riello's heat exchanger for ultra-high efficiency and reliability. Its onboard software allows cascading of up to eight boilers, making it suitable as a standalone boiler for small applications, or cascaded for larger applications.
###
Sanuvox's Bio-Wall air disinfection system is a customized solution to help prevent propagation of bioaerosols in even the largest air handler units. Installed in ventilation ducts, this UV purifier has been shown to effectively reduce airborne concentration of biological pathogens, like mould, bacteria, and viruses (such as SARS-CoV-2).
###
The DMF150 system feeder from Axiom features a digital pressure control that can be set between 0-45 psi and provides an alert in the event of a pressure or low fluid level condition. The 4.5 U.S. gallon reservoir tank has a front fill point and a system connection at the top of the feeder, which reduces the space required for installation. A provided wall bracket accommodates applications where there is limited floor space.
###
The latest release of Fieldboss 4.5 field service software is full of new functionality and enhancements driven by technical advances from Microsoft, and the ever-changing field service industry. Somenew features and enhancements include field request automation, purchase order management, reporting and transaction entity, resolution codes, automated service reports to customers, expense management, tool tracking, security roles and UI improvements.
###
Robertshaw will introduce their Pro-Series Thermostats. With eight models, there is a model to suit nearly any system from non-programmable to 5-1-1 or 7-day programmable heating and cooling. The WiFi model and Robertshaw's iOS or Android app offer smartphone control. Simple programming menus and a modern design provide simple, powerful control. A six-year warranty is also included.
###
Durapox 501 from Formadrain is a two-part CIPP steam-cured resin with a 60-day open time, meaning consumers are in control of the entire process. Because the resin remains fresh, it maintains its optimal wet-out properties – but drips less once applied. The exclusive trenchless CIPP solutions for laterals and spot repairs eliminate the cost of the traditional dig and replace methods.
###
The C450CCU commercial refrigeration controller from Johnson Controls combines the functions of a space temperature control, defrost time clock, defrost temperature termination control, fan delay switch and pump-down control. This provides refrigeration equipment OEMs and service contractors with an alternative to electromechanical controls with the added benefit of System 450's temperature sensing and control, fail-safe modes, and alarm functions.
###
The air management system from Centrotherm provides noiseless fresh air supply to living spaces and efficient stale air exhaust from kitchens and bathrooms while contributing to energy efficient homes. Air Excellent allows installers to independently control the air quality in each room. The system was designed to increase oxygen levels while reducing CO, VOCs, viral load, bacteria, and mould growth.
###
BDT and WFA series expansion tanks offered by Greenmech are full acceptance type with replaceable heavy-duty butyl rubber and EPDM bladders. Capacities range from 6 through 15,000 gallons. All tanks are ASME rated for 125 and 150 PSI as standard. BDT series features stainless-steel system connection making them ideal for use with potable water. Tanks are manufactured by American Wheatley in the U.S.
###
BMI Canada will be featuring its BMI Press Wrot copper press-fit fittings. Compatible with all pressing tools the complete line of fittings range from ½-in. to 4-in. sizes including true reducing sizes. Also available from BMI are press fit ball valves, lead-free brass, 1/2-in. to 4-in.
###
GeoSmart NetZero variable capacity water-to-water inverter heat pumps are a new product available in the North American market. With a COP of over 5.0, theseunits can reduce up to 80% of the climate related energy consumption of a building using a variety of renewable energy sources. Ground source, air source, or hybrid, these inverter driven heat pumps all adapt to the GeoSmart NetZero needs of installation.
###
Mastercool will showcase the new Spartan series smart manifold with Bluetooth wireless technology. This smart manifold is equipped with a 4.3-in. colour touchscreen LCD, allowing the user to navigate through all of the screens and options. Now with a built-in premium vacuum sensor, this manifold will display pressure, temperature, and will automatically calculate superheat and sub-cool. It includes data logging, leak testing and alarms.
###
Vents-US will show a single room WiFi-enabled energy recovery ventilator (ERV). The TwinFresh Expert provides continuous ventilation with a 93% efficiency. The units offer three speed levels, various ventilating modes, filtration, wall-through installation, quiet operation and modern design. The units are suited for a comfortable indoor climate and required air exchanges in renovated premises or reconstructed apartments.
###
Marlig's new Geo-loop Leak Seal is a liquid concentrate that is circulated through geothermal and radiant in floor piping systems. It can seal minor leaks up to 1/8-in. in diameter. The product allows you to simply circulate with water through a system, filling the hole or crack to eliminate the leak. The seal will need 48 hours to cure, which will form a long-lasting seal.
###
The Respicaire BioClean is a new, high output, UVC germicidal purification system designed for commercial heating and cooling environments. BioClean has been engineered for surface and airstream decontamination. Proven to be tested on the pandemic corona virus and shown to inactivate 99% in seconds, the BioClean helps eliminate coil biofilm while inactivating airborne microbials and pathogens.
###
Lennox has introduced their latest rooftop unit. The design delivers complete comfort at the lowest total cost of ownership, while also reducing maintenance and service time. The Model L rooftop units feature the Lennox CORE unit controller and advanced variable-speed technology to maximize energy savings. The diagnostic features reduce installation, service, and maintenance expenses.
###
Mifab will showcase the Top Set Adjustable Drain. The patent pending MIFAB finished floor drain ships complete with a ½-in. thick plastic cover to protect the strainer during the concrete pour. It works best when the installer "shoots their level" to the top of the plastic cover and pours the concrete to the top level of the plastic cap so adjustment can be made after the concrete pour.
###
Yorkland Control's IOT ready IAQ sensors make it possible to continuously monitor indoor air quality for occupants. Smart IAQ sensors transmit data to building automation systems and centralized IAQ analytic platforms to control and validate ventilation control strategies. The sensors monitor and control based on air pollutants such as PM2.5,PM10, VOC, CO2, and ozone.
###
The RSH-50 VRM kit from RectorSeal combines the VRM60A and the RSH-50 in a NEMA 3R enclosure. The kit protects equipment from electrical surges and voltage disturbances by using safety thermal fusing and gas discharge tube surge protection technology, combined with the ability to monitor the line protecting equipment against over and under voltage conditions that can cause damage to circuit boards and motors.
###
Loyol Vision is a new Internet of Things (IoT) tool that gives HVAC/R contractors an eye into their consumers heating equipment. The device captures error codes in real-time from any gas burning furnace and sends an alert to the contractor along with possible causes and manufacturer recommended corrective actions. Vision can be installed in just 10 minutes and has a lifetime of up to 10 years.
###
Xtreme Flow Manifolds from Rhella bring performance and quality to any snow melt applications. With 2-1/2-in. trunks and options for ½-in., 5/8-in. and ¾-in. branches, these 304 stainless steel manifolds offer flexibility and unrestricted flow in a well designed package. The are vailable in 4 to 16 circuit sizes.
###
Canada Controls will show the MAC36NL, a compact master application controller with 36 universal I/O. The use of a specific set of local 36 inputs and outputs allow the device to be used in various applications. It provides data logging, alarming, scheduling, integration, and visualization. For IP connectivity, independent ethernet ports are available for IP and cloud connectivity using BACnet/IP, MQTT and other protocols.
###
Fujitsu General's family of Halcyon mini-splits and Airstage VRF heat pump systems provide a fit for both residential and commercial applications. The units offer highly energy efficient electrical operation and can provide heat down to -15F. New, single-phase J-IV and J-IVs Airstage VRF heat pump systems serve heating and cooling applications between 3- and 5-ton capacities, making them ideal for residential and light commercial.
###
Berner's Architectural Elite air curtain is designed for those looking for a seamless integration of design, function and performance. These air curtains use EC motors, can be easily controlled with the Berner Air smartphone app and include BACnet capability. They save energy and protect the interior when the door is open giving users complete control in all seasons.
###
Ontor will show Spirotherm's Spirovent Quad with magnets. The units deliver air separation efficiency and add effective separation of ferrous and non-ferrous debris while providing the interconnection between hydronics loops. Powerful magnets located on the exterior of the housing surround the flow-path of the system water to capture ferrous material. They are available in 1-in., 1¼-in. and 1½-in. with threaded, sweat and press fit connections.
###
Ratech has introduced the newest innovation in the company's pipe inspection camera systems: the Plumber's Helper Jr (PH-Jr). Based on a small-scale reel the system comes with 100-ft. mini gel rod cable, a removable compact command module with 7.1-in. LCD, built-in battery, and SD recorder for recording digital images and video. This mini pipe inspection system is available with a full spectrum 1.375-in. self-leveling colour camera, or a standard camera. 
###
Goldstone HVACR will be featuring new line sets. Their polyethylene hard shell (PE) products feature flexible polyethylene closed cell with a hard-shell outer jacket for tear resistance. The temperature range is from -40C to 110C (-40F to 230F), and the products are compliant with specification ASTM E96-00. They are also UL94 rated as ASTM E- 84 25/50 compliant as tested according to UL 723 for fire and smoke rating.
###
The new ODE faucet collection from Riobel highlights the fluid lines created by a unique transition sculpted and brought to life by the ever-changing light of the environment. It explores how seamless constructions can impact interaction with everyday products. The fixtures also reduces the number of visual stimuli while carefully carrying enough detail to please the eye.
###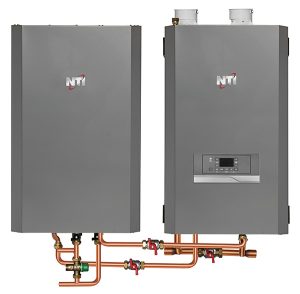 NTI will showcase their new high-output combi System. The product offers a pre-configured piping kit to easily pair its S20W wall-mounted indirect water heater any size to create the combi system best designed to meet the needs of an application. It is easily installed with NTI's pre-configured piping kit and offers a lower installed cost than a boiler and a tank.
###
The CS800 series direct-operated, spring-loaded regulators from Emerson Automation Solutions have been engineered to fit a multitude of pressure-reducing natural gas and propane applications. The CS800 series feature multiple body connections, sensing configurations, outlet pressure settings, orifice sizes, and overpressure protection methods. The CS800 series can also come certified to ANSI Z21.80 / CSA 6.22 for pressures up to 10 psig.
###
GLP Canada will be showing Maytag HVAC products, a brand Canadian consumers recognize. Maytag offers a full range of residential HVAC products backed by a 12-year parts warranty. Maytag sales, parts, technical and warranty is fully supported across Canada by GLP Canada.
###
Javelin Kitchen Drain and Septic Treatment is designed to dissolve fat, oil, and grease in kitchen drains, grease traps, building drains and stacks. It also dissolves waste in drains leading to the sewer main or septic system. Best used for both commercial and residential applications, the product can also be used for preventative maintenance as well as slow running drains.
###
King Heating will showcase their new hot water tank. The design provides more hot water due to higher internal temperature (75C) combined with a highly efficient mixing valve which prevents scalding. EVERLAST titanium alloyed stainless steel combined with unique ULTRAWELD welding process and a passivation process ensures enhanced corrosion resistance.
###
Parker's ZoomLock push-to-connect refrigerant fittings allow contractors to make leak-free connections. No brazing torch or press tools and jaws cut the risk associated with installing traditional HVAC/R fittings. Users can connect the refrigerant pipe with a small push making the process quick and easy. The product is optimized for R-410A to provide a faster, cleaner, safer connection using a braze-free, flame-free, refrigerant piping solution.
###
The Teledyne FLIR TG275 thermal camera is designed for technicians who want to accelerate diagnostic procedures and avoid undetected problems. This diagnostic tool combines non-contact temperature measurement with temperature range up to 550C and thermal imaging to troubleshoot repairs, spot potential faults, and record images to ensure a problem has been fixed.
###
Controls Depot will introduce the Kaiterra Indoor Air Quality Sensor technology. The product allows users to monitor air quality, volatile organic components like CO2 and other harmful matter that pose risks to building occupants. Real-time dashboard for reporting, monitoring, and analysis, allowing users to act before they have to react, preventing repairs and unnecessary building closures.
###
Bray Simple Set and Simple Set Max pressure independent control valves combine a control, dynamic balancing and flow limiting valve into one to achieve a continuous flow rate irrespective of inlet pressure. Both products prevent overflow at any load condition, ensuring optimal coil and system efficiency. The unique design of the Simple Set provides full stroke of the control element for rangeability of greater than 100:1 at any flow rate setting.
###
Marking Services Canada offers AIM Mobile Technology delivering on-demand 24/7 access to critical asset information. MSC QR coded tags provide a direct link to reliable asset information, accessible when installed on valves and equipment in your operations. The AIM is a user-friendly asset and document management system built for safe and efficient operations.
###
IPS (International Power Systems) will introduce their new XPOWER F-16B ULV (ultra-low volume) cold fogger. With a lightweight and compact design, the unit provides full coverage for office, restaurants/food services, schools, hospitals, senior centers, pet boarding, greenhouse, commercial properties, and more. The F-16B features a two speed, 500W motor, and an adjustable nozzle producing average droplet size of less than 50 micron, at a distance of 30+ft.
###
The Marley DT Fluid Cooler provides dry operation flexibility that fill/coil hybrid coolers cannot. Improved air-side pressure and higher heat rejection capacity per coil row – benefits realized with the DT Fluid Cooler's proprietary streamlined tube profile – provide opportunities to reduce equipment size and/or lower energy consumption, while maintaining the dry operation flexibility that coil only closed-circuit coolers are known for.
###
Victaulic will showcase the Style 107V rigid coupling. This product gives installation confidence with a robust coupling design while also delivering a reliable rigid joint. The system allows fast installation with one-touch tightening, enhanced visual verification and built-in safeguards against over torqueing and over tightening. Available in 2 to 8-in. sizes, the system includes new QuickVic fittings.
###
The new LT4 Lint Trap manufactured by Atmosphere is built with a 24Ga, galvanized steel box with 4-in. adaptors. It also features a 4-in. window to monitor the lint accumulation and a finishing frame for a clean installation.
###
The Cush-A-Nator from ZSi-Foster (distributed by Wildon Sales and Marketing) is a cushioned clamp for pipe and tube made from a proprietary thermoplastic vulcanized material cross-linked with high performance rubber and thermoplastic elastomers, which produces the highest operating temperature range in the industry. The Cush-A-Nator is designed and manufactured in Michigan and provides the user with a choice of the highest heat range resistance of any cushion clamp on the market.
###
Ortech will present the ODD-ERV-120, an energy recovery ventilator with washable MERV 6 air filters in the return and outside supply air streams. The units feature EC motors with total speed controllable range and offer performance up to 77% SRE. The system also has automatic recovery core defrost mode and also offers an optional touchscreen controller.
###
Apollo SmartPress is a press system designed for joining ½-in. -2-in. ASTM A-312(304/304L and 316/316L) schedule 5/10s stainless steel pipe. Apollo SmartPress fittings and valves offer end-users a complete solution with maximum coverage of applications requiring HNBR, EPDM or FKM sealing elements for operating pressures up to 500 psi and temperatures to 392F.
###
WASSERTEK, a manufacturer of tools and machinery introduces its most robust threading machine which is used for continuous threading of steel pipes for BSPT/ NPT in mm or inches suitable for pipe sizes from ½-in. to 6-in. The machine is equipped with a heavy duty motor, HSS dies and a forward and reverse option.
###
NCI Canada will be showcasing a selection of valves, fittings, strainers and gauges. The products are designed to serve residential, commercial, industrial and fire protection markets.
###
National Energy Equipment will be showing DoubleTrac fuel piping, a solution that eliminates common problems associated with other above ground piping. DoubleTrac features 316L stainless steel primary pipe, a continuous double wall, and it's easy to install with no gluing, welding or weather delays. It has also passed a two-hour fire test.
###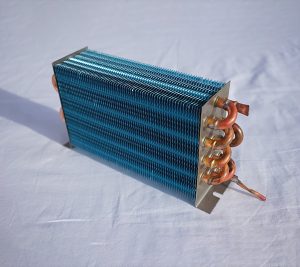 Beijing Sunjet will be featuring its custom-made fin and tube heat exchangers for the HVAC and refrigeration industry. The products are suitable for refrigeration, air conditioning and heating ventilation equipment in commercial, industrial, transportation and other fields.
###
Advertisement