Not unlike all the other industries servicing our modern world, the mechanical trade is an incredibly complex system that operates at near miraculous effectiveness every day. I have been observing industry business from the sidelines since well before the COVID pandemic befell all of us.
To be sure, our industry continued to operate efficiently in the face of unending government legislation posing restrictions, lockdowns, curfews, and vaccination mandates in such an unpredictable and asymmetric manner on the entire country.
Especially compromised were the small business owners, from the contracting side to wholesalers, many of them have been or will be undermined by the pandemic and its erratic remediation. Fortunately, as Spring is around the corner, the most recent movement from governments is to open up, freeing us all to get back to the new normal.
It's The People
And so, we press on. Earlier I used the term "near miraculous" to describe how things get done from start to finish in our industry. There's no miracle, only the many thousands of people doing better than an average day's work to fuel this industry.
Remembering scientists like Michael Faraday, and engineers like Willis Haviland Carrier, to innovators like Frederick McKinley Jones, our industry helps to keep other industries humming, provides thermal comfort for billions of people and animals, and makes it possible to have fresh food on the tables of billions more.
I talk about decades of brilliant scientific discoveries and scores of superb engineering accomplishments related to HVAC/R and the building industry more often than not. However, that's not nearly where it ends.
Like the health care system, for example, surgical interventions regularly save people from all sorts of maladies, yet without trained nurses, respirologists, lab technicians and all the other people running hospitals, the surgeon would not be able to operate on anyone. Likewise in HVAC/R, without a stream of knowledgeable people from consulting engineering onwards no product will ever be specified, installed or serviced.
While scientists and engineers populate the upper echelons of this industry, and rightly so as products, processes and implementation of technologies must be proven safe, efficient and reliable, there are so many other people involved in making our industry work.
I'm compelled to give a brief shout-out to several industry groups I have worked with over the years, and I know I'll miss some folks performing valuable work within our industry, there are so many things going on every day that I'd truly have to write a book to cover all the good works.
Salespeople
Ask salespeople how the world goes around and I'm sure they'll tell you: "NOTHING happens without a sale!" Once an entrepreneur or a factory team develop an HVAC widget, it had better be saleable or the creators face bankruptcy.
I once attended a manufacturer focus group populated by engineers from the factory and a wide array of small HVAC business owners, including service managers and technicians. Everyone was tasked with designing their dream residential furnace and encouraged to add every bell and whistle we could think of—everything!
As our individual lists were added to a large whiteboard, I saw many great ideas, and the engineers said, "We can do all these things." Then the key question: "Can you sell it?" 
Silence spread over the room, even the experienced business owners knew that such an enhanced product replete with built-in wonders for every function would be a difficult sell.
Thus, the final iteration of a product can go to market by way of factory-owned distribution or by a more popular model known as two-step distribution, in which a sales agency or wholesale supply house does all the leg work—developing and servicing a customer base utilizing an in-house sales force.
Two-step distribution also provides warehousing, parts and warranty administration, product deliveries and so on, leaving the factory free to focus on manufacturing and new product development. The supply house sales force must create a customer base for HVAC products and service those customers very well. An HVAC contractor must then sell the appropriate product to an end user or homeowner.
Sales is a difficult job. Successful salespeople have invariably invested some of their time in learning the sales process and in improving their techniques using professional coaches, many of whom are available to wholesaler and contractor salespeople alike.
The act of selling can often boil down to those industry persons least likely to be thought of as a salesperson, like a cheerful receptionist or a friendly and knowledgeable counter salesperson—indirect sales if you like. 
Some service techs resist having to offer company services to homeowners, but in my view, such activities are essential to any company. I do not mean selling products or services that are not legitimately needed, but the next time a contactor burns out, why not offer an upgraded, higher value replacement contractor that might prevent repeated failures?
HVAC companies prosper when everyone pitches in—profitability often translates to better wages and benefits. So, thank you salespeople (that goes for inside salespeople too); you are making the HVAC world go around.
Marketing
Once thought of as advertising, the idea behind marketing is to promote products in their best possible light so that the phone starts ringing, or internet clicks provide leads, for the aforementioned salesforce.
I like this quote from department store and marketing guru John Wanamaker who quipped that: "Half the money I spend on advertising is wasted; the trouble is I don't know which half."
Still true today, many HVAC business owners utilize skilled marketers to ensure their specific message is heard. Marketers exist to create sales campaigns using advertisements for all media types from print and television to radio and the Internet.
I have worked with marketers on designing sales incentives for contractors including holiday trips and bonus prizes, along with other demanding activities such as designing major trade show booths, end cap displays for big box stores and portable show booths for shopping malls, used mainly by residential contractors to help generate local sales leads. Marketers well know that nothing happens without a sale.
Wholesale Parts Counter
I hear you brothers and sisters on the counter. It's -15C today as I write, and I know some parts are unavailable, but I also know what it's like telling a tech or business owner, even after checking inventory at all the branch stores, calling the factory…maybe a competitor, that the part is not available anytime soon.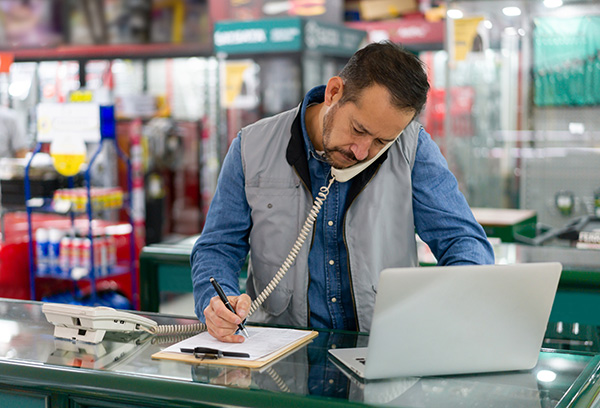 And the pandemic hasn't helped. Counter salespeople provide sales and service support for customers while crafting price quotes, stocking shelves, updating inventory, processing warranty claims and handling cash and credit card transactions. Keeping a universe of part numbers, model and serial numbers, along with product codes swirling around inside one's head within this so-called fast-paced environment calls for kudos all around.
HVAC/R Trainers and Tech Support
I would argue there are not enough people working in training and tech support roles within our industry. No doubt, dedicated educators from the community colleges, organizations such as HRAI, manufacturer product knowledge representatives, wholesaler tech and training programs, along with help from dozens of independent organizations and Internet-based groups like Gary McCreadie's HVAC Know It All and Bryan Orr's HVAC School are helping, but more will need to be done simply to keep up with the crop of new industry workers about to start their careers.
To all the technical support and trainers out there, thank you for doing what you do. Many thanks to manufacturers and distributors willing to reinforce their bottom lines by investing in high quality HVAC/R support roles.
Sheet Metal Workers
HVAC metal fabrication shops turn out the air handling infrastructure so important to human comfort, yet their combined efforts remain unheralded by those enjoying the benefits of a well-tuned air distribution system. Installers take the prescribed metal pieces and knit them into a precise network of seemingly confusing air highways. Figure 1 (above) depicts a commercial duct system installation before the ceiling gets installed; too bad, such a beautiful installation will go unseen. 
Bravo sheet metal workers and thank you for so many jobs so well done.
Heat Source and A/C System Installers
There's so much new technology on the equipment side that everyone doing this work must stay abreast of the latest advancements while striving to make the best of traditional practices. And it's not easy because changes come hard and fast leaving little time for reupping knowledge and skill sets. Figure 2 depicts a magnificent residential zoned hydronic system from the 2021 Sweet Heat contest winners Riverdale Plumbing in Toronto, congrats. 
Last year's contest with entries from across Canada included some absolutely brilliant residential and commercial work, thank you all.
HVAC and Refrigeration Technicians, Residential and ICI
Having spent years installing furnaces and repairing unhappy equipment in a variety of applications, I won't say I ever felt totally unappreciated. Indeed, homeowners especially were often very generous providing snacks and even a tip here and there.
But not all techs receive so much love; it really is the little things like getting stuck in traffic, no place to park, lugging heavy tools for what seems like a mile (or even a kilometer), only to find out the mechanical room is so tiny you need a feeler gauge to tell where the wall ends, and the equipment begins. And of course we have Canadian weather to deal with (see Figure 3).
Don't get me going about rooftop units (Figure 4). Yet you do it, since it's important to you that the unit runs properly once again and it's good to know that a customer you might not even see will be comfortable.
I visited New York City some years ago. Sitting in an open-top city tour bus waiting for our group to start the tour, I noticed a Trane service vehicle circle the block several times (see below), no doubt searching for a next-to-impossible available parking spot in an incredibly busy Manhattan that seems to be an endless sea of buildings perpetually under construction or renovation.
I immediately felt sorry for the tech as so many of us have been there, done that.
Too Many to Count
The late German economist Rudi Dornbush said, "things take longer to happen than you think they will, and then they happen faster than you thought they could." It hadn't occurred to me while I cleaned pilot lights, replaced thermocouples and checked fan belt tension that I'd soon be dealing with HVAC equipment monitored by several computers. HVAC innovation is not slowing down, yet our industry needs many more dedicated practitioners, especially those "on the tools," in my opinion.
I know I've left out many others working a variety of HVAC jobs every day, often indirectly but of no less importance in my opinion. There are accountants, bookkeepers, receptionists, (even HR), material handlers, truck drivers all doing HVAC by supporting their many colleagues.
And I shouldn't forget industry associations and trade publications like HPAC magazine and others that regularly update all of us with actionable insights and important news. Thank you to everyone, your dedication to this industry merits the all-encompassing distinction of unsung hero. <>
Ian McTeer is an HVAC consultant with over 35 years of experience in the industry. He was most recently a field rep for Trane Canada DSO. McTeer is a refrigeration mechanic and Class 1 Gas technician. He can be reached via email at imcteer@outlook.com.
Advertisement
---
Print this page

Sponsored
More