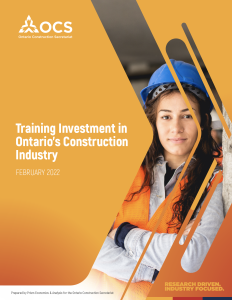 A new report from the Ontario Construction Secretariat has highlighted increased investment in training across the province through the unionized construction sector.
According to Training Investment in Ontario's Construction Industry, contractors and labour unions in the construction trades invested $146 million in training in 2019 — an increase of 261% over the past decade, and a three-fold increase since 2006. They also invested $325 million between 2013 and 2019 in capital upgrades for training facilities and equipment.
Additionally, roughly one-third of construction apprentices are getting their training in a unionized training facility — up from 23% a decade ago.
That data presented in the report, which was collected and compiled by Prism Economics and Analysis, is from 2019 and does not capture the impact of the COVID-19 pandemic on apprentice registration and completion. However, the data does provide an important baseline for examining the impact of COVID-19 on construction apprenticeship completions and registrations in Ontario.
The unionized construction sector delivers 61 training programs in 40 training facilities — jointly funded by trade unions and contractors — certified by the Ministry of Training, Colleges and Universities as a Training Delivery Agent for apprenticeships.
The report also found a record 10,485 apprentice registrations in 2019, up 32% from 2010, and that apprentice completions have increased 75% per cent since 2010.
For more information on the training investment in Ontario's Construction Industry, please click here.
Advertisement
---
Print this page

Sponsored
More