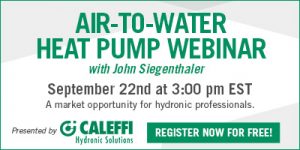 Join HPAC Magazine regular contributor and hydronics industry expert John Siegenthaler as he talks about the worldwide trend underway that will undoubtedly affect the future of North American hydronics technology. That trend is the move away from fossil-fueled boilers and toward electrically-powered heat pumps.
Siegenthaler indicates that this trend presents a significant opportunity for hydronic pros that are ready to take advantage of it using modern air-to-water heat pump systems.
This free webinar, presented by Caleffi Hydronic Solutions and hosted by HPAC Magazine, will will run in two parts:
The first segment,

 Tuesday, September 22 at 3 p.m. (eastern time), will introduce the basics of air-to-water heat pumps, describe why they will be a new niche for hydronic professionals, and show some basic system configurations.  Attendees will see how their current knowledge and skills in crafting modern hydronic systems can be leveraged around this new heating / cooling source.

The second segment (slated for November 20th, 1 p.m. eastern time), will be a continuation of the September 22 webinar and will drill down into more detail on how to apply modern air-to-water heat pumps, including design details, performance simulations, and several example systems.
LEARNING OBJECTIVES:
Understand the basic operation & performance of air-to-water heat pumps
Grasp global trends that will increase this market niche
Understand the importance of low water temperatures in air-to-water heat pump systems
Learn how to configure a basic system for heating and cooling
Advertisement
---
Print this page

Sponsored
More