Jaga Climate Systems has announced its higher capacity Briza 22 and Briza 26 hydronic fan coil unit (FCU) line.
These FCUs are small enough to install in the wall or ceiling with either ducted or non-ducted systems.
Powered by electronically commutated motors (ECM), they offer quiet but high-capacity heating up to 90 MBH and up to 4 tons of cooling.
The Briza-22 unit is just 8.7-in. high and the Briza-26 comes in at 10.2-in.
Featuring built-in vibration isolation, units can be pinned directly to the mounting surface (wall or ceiling), eliminating the need for additional vibration isolation.
In addition, the units are powered by EBM Papst Greentech motors that use 90% less energy than traditional air conditioning motors.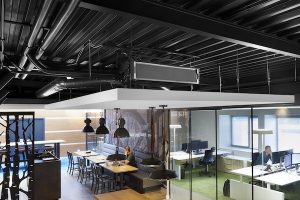 The Briza units can be placed directly above working spaces, and they enable structures to be designed with a decoupled perimeter system, where the load is handled by these units and the interior is handed by a traditional VAV or smaller ducted fan coils.
The units are available in a two- and four-pipe system.
Advertisement