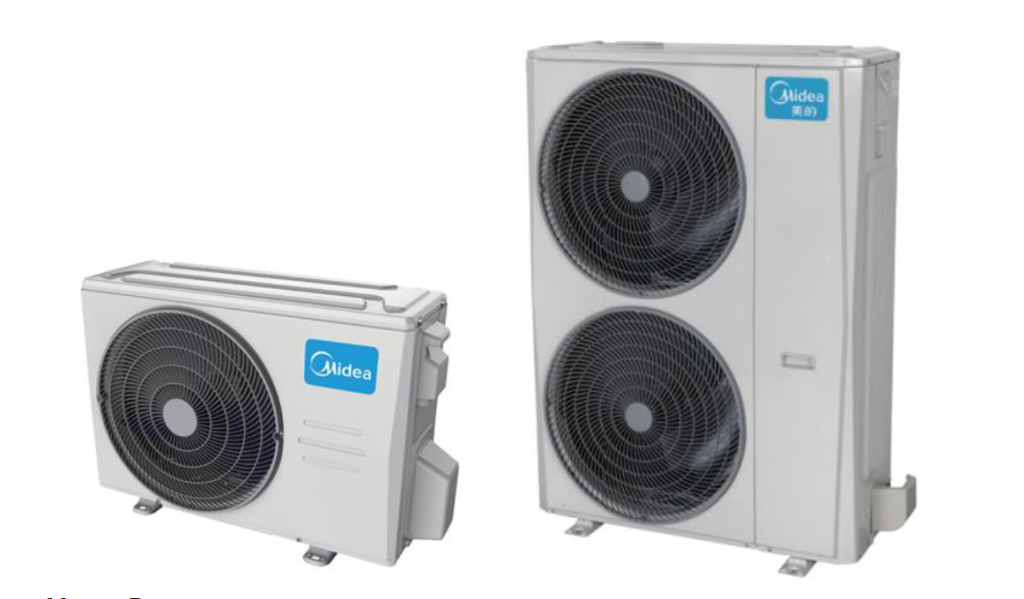 Midea has launched its new EVOX central inverter heat pump system
Available six sizes from 1.5 – 5 tons (18,000 to 60,000 Btus), EVOX cold climate heat pumps are capable of 100% heating output at -20C (-4F).
The side discharge outdoor units support heat pump and dual-fuel heating capabilities, are up to 36% quieter than conventional units, are less prone to natural debris, require less rear clearance (12-in. vs. 24 in. with traditional units), and are up to 50% smaller than conventional units
Midea's BI-COM technology enables the EVOX Inverter Heat Pump System to work with the EVOX communicating wall control or be compatible with existing 24V thermostats or smart/learning controls such as Nest and Ecobee, among others. So the EVOX System can be installed as a complete set or added in components to existing HVAC systems, without changing current duct design, refrigerant lines or communication wires.
EVOX offers two levels of heat pumps including:
EVOX M-POWEVI – designed for areas with extreme cold, the unit is capable of 100% heating output at -20C (-4F) and continued heating performance down to -25C (-13F).
EVOX Cold Climate Heat Pump – able to deliver 100% heating output at -15C (5F) for warmth during moderate winters
EVOX systems can also be paired with existing gas furnaces for dual fuel options.
Midea EVOX Air Handling Units (AHU)
The EVOX AHU  includes Computational Constant Airflow (constant CFM Blower) enabling airflow to automatically adapt to the existing ductwork designs and issues caused by blocked coils, dirty filters and improper duct sizing by adjusting output power and fan speeds.
Available in sizes from 1.5 – 5 tons, EVOX AHUs feature constant air flow up to 0.8 in. wc, stand pressure up to 1.0 in. wc, a corrosion resistant aluminum evaporator coil and can be equipped with optional auxiliary heat kit up to 25kW.
The AHUs offer both horizontal and vertical installations options, a removeable slide-out blower, intelligent diagnostics and easy access to the adaptive control system for easy maintenance and repair.
Advertisement