Report: Substance Use in the Skilled Trades
November 1, 2023 | By HPAC Magazine
New Canada-wide study suggests workplace culture may be preventing access to substance use supports among those working in the skilled trades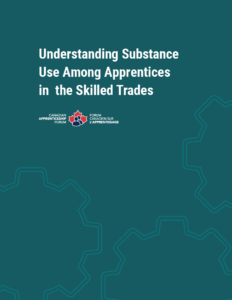 Existing workplace culture may be the most important perceived stigma preventing access to substance use supports among those working in the skilled trades.
That finding comes from a new report, Understanding Substance Use Among Apprentices in the Skilled Trades, a study conducted to gain better insights into the real lived experiences of apprentices and tradespeople along with the supports required in relation to substance use and abuse in skilled trades occupations.
Commissioned by the Canadian Apprenticeship Forum (CAF) with funding from Health Canada, the study included research projects undertaken between August 2022 to April 2023, including a Canada-wide survey of apprentices and journeypersons, complemented with interviews with apprentices, tradespeople, employers, union trainers and representatives from substance use organizations.
Overall, 1,194 participants completed the survey and 46 people were interviewed. Of the survey respondents: 77% were men; 56% were from construction trades; 50%were journeypersons and 50% were apprentices; and 56% were non-union and 44% union.
Some of the report's key findings include:
59%of respondents reported binge drinking/alcohol use (more than five drinks on one occasion in the past 12 months).
Apprentices and pre-apprentices are more likely to use cannabis than journeypersons; whereas journeypersons are more likely to use opioids and sedatives.
There is evidence of possible misuse of prescribed opioids, as well as use of non-prescription opioids. Women use more opioids, sedatives, and psychedelics than men.
There is a higher use of cannabis and stimulants in the trades than in the general population.
Socializing and partying are the primary reasons for using alcohol, psychedelics, and stimulants.
Most respondents did not report harms from using substances. For those who did experience harm, the most cited consequence of substance use was mental harm.
Among survey respondents, 84% indicated their employer had clear rules about workplace on-site drug use, and they were very aware of their company's rules around drug use and the consequences for using substances on-site (91%).
There is a lack of awareness regarding available services and treatments. However, tradespeople working for employers/unions that provided information to their workers/membership regularly were more likely to be aware of available services, or, at a minimum, where to access them.
Survey participants identified counselling, mentoring, and peer support groups as the types of supports most needed.
Promising practices included use of peer support programs, reducing stigma in the workplace, and integrating substance use approaches and strategies into existing supports.
The report notes that experts in substance use and treatment in the trades revealed that large organizations are more likely to have workplace drug policies, while smaller companies, which includes the majority of employers in the construction sector, often lack the capacity to develop their own drug policies.
The experts also note that current work conditions in the construction sector can be attributed to decades of policies aimed at increasing productivity while keeping expenses low, adding that these conditions have contributed to the mental health crisis in the building trades and the increased use of substances in the industry.
To address substance use, the industry needs to address the contributing factors, including improving working conditions and actively changing workplace culture that minimizes mental health struggles.
Advertisement