Shift from Solids-handling to Grinder!
By Liberty Pumps
Plumbing
ProVore® grinders are designed for use where addition of a bathroom or other fixtures below sewer lines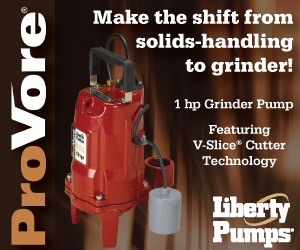 requires pumping. This 1 hp pump operates on 115V or 230V and can be plugged into standard 20A circuitry. It features Liberty's patented V-Slice® cutter technology which easily shreds solids – such as feminine products, rags, and other unwanted debris. Compact factory assembled systems are available in both simplex and duplex versions.
Advertisement