Daikin Acquires Williams Distributing in the U.S.
January 4, 2023 | By HPAC Magazine
Williams operates 32 locations across Michigan, Indiana and Ohio.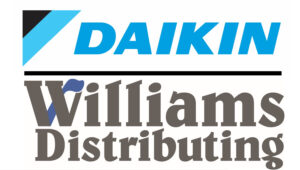 Daikin Comfort Technologies North America continues to grow its ownership of distribution companies in the U.S. with the recent acquisition of Williams Distributing, an HVAC equipment and residential building products distributer in the Great Lakes region operating 32 locations, including 27 dedicated HVAC sales counters, across Michigan, Indiana and Ohio.
Headquartered in Grand Rapids, Michigan, Williams is one of several regional distributor acquisitions made in recent years by Daikin. This acquisition supports Daikin's vision to expand the use of inverter heat pump technology in cold climates. Williams' Northern location provides additional cold climate product testing and development opportunities for the company's cold climate technologies, providing access to resources and people with field expertise for continued research and development.
The Williams deal follows the December 2022 acquisition of Venstar, a controls and energy management systems provider, as Daikin works to transform its position in the North American HVAC market.
Advertisement