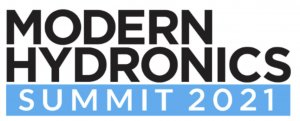 The 5th edition of Modern Hydronics – The Summit is going virtual for 2021, being held online March 30 & 31, and already over 400 people have registered representing all 10 provinces.
Every two years HPAC Magazine takes great pride in assembling the Canadian hydronics community together for informative presentations from many of our regular expert contributors—including John Siegenthaler, Robert Bean, Mike Miller, Steve Goldie and more—and the Summit also offers contractors the ability to view the latest products and services being offered to this specialized segment of the mechanical industry.
Taking the Summit online for 2021 allows for even more educational sessions and plenty of time for attendees to connect with our sponsors and exhibitors. Using an all-new virtual event platform that encourages participant interaction, during the scheduled conference hours attendees will be able to chat with our speakers, interact with manufacturers and distributors, and network with other hydronic professionals and colleagues with ease.
Some of the session topics will include:
Air-to-Water Heat Pumps
Reducing Water Temperature in Existing Hydronic Systems
Energy Metering
Selling Hydronics to Builders
Buffer Tank Set Ups
Snow and Ice Melt
The 2021 Modern Hydronics Summit has been split into two half-days, running from Noon-3:30 pm (eastern time) with multiple sessions running and still lots of time for taking a break to connect and chat with experts and friends.
All of the sessions will be available on-demand for two months following the event as well, so registrants are free to return any time.
In addition, the final session of the Summit will include the announcement of the winning entries to the HPAC Magazine Sweet Heat contest, which is calling on hydronic contractors from across Canada to submit photos of their best projects.
And thanks to the generous sponsorship of
Resideo
, registration to the Modern Hydronics Summit 2021 is 100% FREE.
Advertisement