The Canadian Mechanical and Plumbing Exposition (CMPX) was scheduled to take place at the Metro Toronto Convention Centre March 25-27, however due to the rapid spread of the novel coronavirus in North America and around the world, on Friday, March 13th, the show organizers announced the event will be postponed. Following is preview of some of the products that were slated to be on display at this year's show.
###
American Standard's Flash Shower Rough-In Valves are designed to work almost anywhere with multiple pipe connection solutions featuring a compact size and design. Flash offers peace of mind as a result of fast and easy installation and reduced leak points.
Aquatherm polypropylene Blue Pipe is available in sizes up to 24-in. to handle any size commercial heating and cooling project, and some Blue Pipe is designed to handle up to 180F fluids at 100 psi. Aquatherm pipe is hydrophobic and will never scale or corrode. Aquatherm pipe and fittings are joined using heat fusion, which results in a homogeneous material without leakage paths and offers tremendous labor savings compared to welding steel.
The 427A refrigerant retrofitting solution from Arkema performs similarly to the HCFC-22 with no necessary equipment change. The solution functions with a broad range of temperature applications from low, to medium, up to high. It works well with residual mineral oil or AB and has a low global warming potential (GWP).
Fujitsu General America's new LZAS1 and LZAH1 heat pump systems are available in 9,000, 12,000 and 15,000 BTU capacities. Offering up to 33.1 SEER, these systems also feature built-in Wi-Fi capability and an improved fan. The LZAH1 line, which is capable of heating in outdoor temperatures as low as -26C, also features a built-in base pan heater.
General Pipe Cleaners' compact, lightweight JM-1000 Mini-Jet clears grease, sand and ice from 1½- to 3-in. lines. Now with an optional stainless steel hose, high-pressure, wall-to-wall water spray flushes clogs away while also enhancing performance and cleaning power. The durable hose slides more easily down 1½- to 3-in. drain lines and navigates tight bends, while the 3/16-in. Teflon core reduces resistance and improves cleaning power.
Viessmann's Vitotrans 300 is a compact, preassembled and self-contained domestic hot water (DHW) heating station. Powerful and cost effective, Vitotrans 300 works with any new or existing hydronic heat source to provide a reliable and consistent supply of endless hot water at flow rates of up to 180 GPM. The multi-heat exchanger design provides built-in redundancy and eliminates downtime during service and maintenance.
Italian HVAC product manufacturer and distributor, Olimpia, will launch its Maestro series of air conditioners to the Canadian market at this year's CMPX show. The Maestro Pro Series offers maximum comfort and operating cost savings thanks to its inverter drive compressor and variable speed motor, which also contribute to its whisper quiet operation. The units come with a factory-backed seven-year compressor warranty, two-year parts warranty and a limited one year "Unit Replacement" warranty.
IPEX introduces the Aquarise SDR 21 piping, designed specifically for cold water applications. An extension of the AquaRise Potable Water Piping System, the SDR 21 is available in 1 ½, 2, 2 ½, 3 and 4-in. diameters. It has a maximum operating pressure of 200 psi at 73F. The new design is lighter overall and features an increased flow rate due to its larger inner diameter.
The StreamLabs Control features patented ultrasonic technology for real-time water monitoring, smart leak detection and automatic shut-off to stop leaks in their tracks. Connect your StreamLabs Control to Wi-Fi and get next-level water monitoring and alters, right from your smartphone. Other features include a remote shut-off, sensors for in-line water pressure, humidity and temperature and automatic monthly valve checks.
Zurn's EZ Gear Sensor Faucets deliver reliability, precision and efficiency to your commercial
Restroom. Inside each faucet, the ceramic disc cartridge eliminates old compression sealing technology.
Fewer moving parts disrupt the water pathway to diminish wear over time. The EZ Gear Technology is designed to last up to 1 million cycles…and counting.
Great Lakes Copper will feature Streamline PRS, Mueller Industries' solution for professionals choosing to join copper tubing through the use of press technology. Streamline PRS fittings are compatible with most common pressing tools and jaws avoiding the requirement of a proprietary tool. PRS fittings are available in couplings, elbows, tees and adapters from ½-in. up to 4-in. size. They are suitable for all Type K, L and M tubing.
Giant's ECOGRID is the first residential water heater manufactured in Canada that is equipped with a connected controller. Under certain conditions, it allows power grid operators to perform load shedding during peak hours. The controller may also warn the consumer of potential problems such as a defective item, water leak, etc. The technology is currently only available for the utility network.
NAPCO Royal Pipe & Fittings has launched NAPSYS-HR PVC DWV, a new system for high DWV pipe and fittings applications. The system meets all low smoke and flame requirements of the Canadian Building Code and is available in a size range of 1½-in. up to 10 in. in diameter. The low rise product-system currently in-market will be rebranded under a new name – NAPSYS-LR PVC DWV.
The Sanicubic 1 and 2 VX simplex and duplex lift stations utilize vortex impeller technology to discharge grey-water and black-water up to 250 gal/min through a 2 inch or 4 inch diameter pipe, pumping up to 36 ft vertically. Available with a 1.5-HP or 3-HP motor, the Vortex Series easily breaks down waste solids of up to 2 inches in size, eliminating clogging. Saniflo above-floor technology eliminates the need for pit installations, allowing for easy access to all major components.
Hisense Low Ambient Multi Split Heat Pump units can heat even at -25C outside temperature in cold climates and feature anti ice heated condensate pans, while the variable speed inverter compressors to provide efficient cooling during summer months. The units are available in 2-, 3- and 4-zone configurations with optional Wi-Fi control.
Caleffi introduces the SinkMixer, an all-new, innovative, 4-port scald protection thermostatic mixing valve for point-of-use applications. Its compact design minimizes connection points by allowing direct connection to the cold fixture port without the use of an additional tee. SinkMixer includes a stand-off mounting bracket and standard 3/8-in. compression connections that easily fit common under-sink hoses and pipe fittings to simplify installation.
The eF Series of ultra high efficiency gas water heaters from Bradford White deliver outstanding performance and efficiency. Available in a variety of capacities including 119 gallons, the eF Series Power Direct Vent is ideal for restaurants. The ElectriFLEX Series of commercial electric water heaters is field-convertible, so you can give your commercial customer the exact configuration they need fast.
bwforthepro.com
Kling On is a urinal cleaner and descaler developed by Chemfax Products. A specially formulated, thick acid cleaner that dissolves scale, lime, uric acid and any hard water build up existing in urinals. Kling On contains inhibited ingredients that prevent corrosion up to 95%. To use, pour directly into a drain, Kling On will cling to the sides of the pipe. Kling On will not heat up or create any bad odours.
IBC Technologies has introduced their largest high efficiency space heating boiler: the EX SERIES. The EX SERIES currently has two models; EX700, EX 800. The EX series comes equipped with a touchscreen interface featuring express setup, remote monitoring and diagnostics, true native BACnet. 10:1 turndown ratio, built-in 4 zone pump control and multi-boiler communication: up to 24 boilers without additional controls. The most advanced SS fire tube on the market today, with a 97% TE.
Weil-McLain's SVF Commercial Condensing Fire-Tube Boiler features a 316L stainless steel heat exchanger and efficiencies up to 97.1%. Available in six sizes between 750 and 3,000 MBH and fueled with NG or LP. The advanced Unity control system offers straightforward programing and an eight boiler sequencer among other features. The SVF boiler offers class leading serviceability and only requires 4 inches of side to side clearance to minimize space requirements.
Canarm HVAC introduces the FANBOS. This fan blankets a very large area by constantly moving air to create an expansive comfort zone. The damp rated, large ceiling fan features six lightweight aluminum airfoils contoured for maximum air movement. During the heating season, it can destratify uneven temperatures in excess of 15 degrees from ceiling to floor. This results in significant energy savings since the heating system cycles less frequently.
Franklin Electric will show its new Little Giant high-temperature condensate pump, the HT-VCL series, plenum rated with the capabilities to handle the most difficult commercial applications. Comes available in 1/8 and 1/3 hp models with flows up to 575 gph at 5 ft. with a maximum of 62 ft. of head. Fourteen-foot lead wires are provided for connection to power supply with separate leads for overflow detection switch. Each pump is constructed with an external switch test lever to ensure the pump is functioning without the requirement of filling the pump.
Chemline is the official Canadian supplier of Widos butt and socket fusion machines and tools for all types of thermoplastic pipe sizes 20 mm (1/2-in.) to 630 mm (24-in.). Widos fusion machines are rugged, smartly built, dependable and will perform in the most challenging installation conditions. Chemline provides machine sales, rentals and service, T.S.S.A-approved welding procedures, contractor training and field support to get your project moving quickly and smoothly.
Armacell's new ArmaFlex Shield flexible foam insulation is a moisture-resistant and UV-resistant product with a durable protective jacket specially designed for line set, HVAC and refrigeration applications. This tough coating can take the abuse of challenging installations and stands up to extreme elements like UV, heat and cold.
BoilerMag is an air, dirt and magnetite separator, used to prevent the build-up of iron oxide. Ferrous metal contamination is attracted to the magnetic rods, removing the smallest particles, down to sub-micron size from circulation. Its unique patented magnetic core ensures that despite the amount of contamination, BoilerMag can never block. Learn how BoilerMag can prolong boiler life, protect pipework and reduce maintenance calls.
The EcoPower Turbine being shown by Envira-North is truly hybrid with its unique ability to operate naturally to exhaust upwards of 6,000 CFM. As the wind speed reduces, the EC motor (hidden inside the assembly) turns on to continue to ventilate a space. At a maximum power consumption of 260W and whisper quiet operation, the EcoPower Hybrid Ventilator is unique.
FastEst will be showing its new FastPIPE estimating software. The system integrates numerous features to make your estimating process more efficient. From a fully customizable quick pick menu, to a comprehensive master catalog that includes over 200,000 items, FastPIPE estimating software is a must for accurate and quick estimates. It is user-friendly, easy to install and compatible with Allpriser.
Aqua-Tech offers the Lochinvar KNIGHT floor-mounted boiler that can be paired with a SQUIRE indirect water heater providing space heating and domestic hot water. The modulating condensing stainless steel boiler comes in six floor mount models (55 MBH to 285 MBH inputs). They feature 95% AFUE efficiency and are Energy Star compliant.
This air flow capture hood from Testo will be at this year's CMPX. It is Bluetooth-enabled and features ergonomic handles and a tiltable display. It weighs just over six pounds and can be synced with the Testo 420 app.
Canplas will feature its Endura XL at this year's CMPX show. The interceptor is certified and listed to ASME A112.14.3 and CSA B481.1. It can store up to 1097 pounds of grease and features integrated flow control with easy access baffle.
Baxi boilers are represented by Morden National. The Baxi THINK combustion management system continuously monitors the gas and air mix adapting to optimize boiler operations. The Baxi Luna Duo-tec 40 GA is a residential high efficiency modulating condensing combi wall mounted model with THINK technology. The Luna Duo-tec 40 GA features include 125 MBH input in CH Mode and 152.8 MBH in DWH Mode.
Fantech's Hero series features a re-engineered HRV that delivers minimum 80% SRE (sensible recovery efficiency). A counterflow flow core provides optimal thermal power performance while a properly balanced fresh air delivery system allows you to stay on budget. It's compact in size and can be installed in tight spaces.
Part of Navac's Master Series, the NRP8Di smart vacuum pump features digital control interfaces, a built-in micro gauge and digital display. Features on Navac's NRDD Recovery Unit include a twin-cylinder compressor and oversized condenser with two rows of microchannel coils for efficient vapour recovery. The 25-lb unit contains a brushless DC motor and a large LCD display with backlit for clear visibility.
Navien's NFB-C commercial condensing fire tube boilers are available in two sizes: NFB-301C (301 MBH) and NFB-399C (399 MBH). Each NFB-C boiler uses a robotic laser welded heat exchanger. An integrated combustion chamber is designed to minimize weak points. Both boilers are NaviLink Wi-Fi remote control compatible.
The Raypak XFIIRE hydronic boiler or domestic hot water heater is made with stainless steel-water-tube construction and features adaptive controls on a VERSA IC touchscreen display. Suggested applications for this boiler include buildings, schools, multi-family housings and gyms. Raypak is a Rheem company.
The HUB8 collection of wireless refrigerant probes includes two hygrometers, two pressure probes, two pipe clamps, an outdoor temperature probe and one vacuum gauge probe. The kit can be paired with the free intuitive app, 'UEi HUB,' to show refrigerant charging calculations, temperature split and psychometric calculations, dual mode vacuum screen for evacuation and rise tests, and real time target superheat calculation.
The TW2 Series from Brant Radiant Heaters is a high wattage, commercial grade electric heater. Woven Tungsten elements produce a high-output medium-wave infrared heat energy with a visible orange glow. The TW2 Series is for outdoor patios and applications where high heat is required. Heaters are equipped with a specially designed reflector for optimal radiant heat output.
Selkirk Custom Venting Solutions will feature a variety of new custom colours at this year's CMPX show. New finishes include painted colours, alternate materials such as copper and polished stainless steel, and laser-cut designs including patterns, logos, company names and messaging.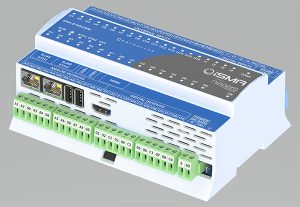 Canada Controls will show a selection of smart field devices, including the iSMA AAC20 advanced Sedona building controller with universal onboard IO and real-time clock. It includes open communication over BACnet Modbus, DALI, M-Bus or OBIX. Remote IO capability and optional LCD for local access and onboard ethernet TCP/IP.
Greentek's heat and energy recovery ventilators are designed for a variety of commercial applications, from daycares to small offices and large commercial operations. Features include: 250-1200 cfm, maintenance-free high-performance fans assure maximum airflow and efficiency, standard MERV6 rated washable filters, and easy balancing with the DuoTrol balancing system. The reversible control panel makes the units completely reversible.
Rosenberg's UNOBOX-ME is a fully assembled blower module designed to handle airflows at higher temperatures. Typical applications are kitchen exhausts, production shops and areas where contaminated or hot air needs to be extracted. It will be featured at this year's CMPX show and available for purchase nationwide.
Thermo Manufacturing's Thermopan is an alternative to sheet metal for constructing return air ducts. The product is suitable for any location you can pan a joist, and offers no duct noise, it's non-combustible and it will not sweat. The airspace created provides an R-Value of 5.
Triangle Tube offers the Instinct, high efficiency condensing boilers with all-stainless-steel fire tube heat exchangers. For installers, the 60-second set up wizard interface helps get the boiler up and running fast. The Instinct is available in Solo and Combi models. Solo sizes are available in 110, 155 and 199, while Combi sizes are 155 and 199.
Conbraco will be showing the Shurjoint M07 rigid coupling, a ready-to-install coupling. The M07 ensures uniform gasket support/stability with its patent-pending wedge design. Users experience reduced installation time by only tightening one bolt. The gasket geometry is optimized for a multitude of installations/applications, and the new EHM grade of EPDM has been designed and is testing in conjunction with the M07 to achieve a temperature rating of 250F.
Designed for variable primary flow hydronic heating, Fulton's Endura condensing boilers provide quiet and reliable operation in a compact vertical firetube platform. The construction is built to last with thicker, higher-strength materials and a premium fit and finish. It efficiently sequences up to 10 boilers and eliminates the need for a master boiler or standalone panel. If a boiler is powered off, the plant transitions to the next available stage with zero downtime.
Bélanger will launch the VOL42CP, its new two-piece roman tub filler. This complete model is part of the Volta family under the H2Flo brand. Featuring a unique pressure balance cartridge with an integrated two-way diverter, it allows users to easily maneuver between the spout and the hand shower functions. With its thin and angular lines the Volta Family redefines the square and round shapes to create a bold new combination.
Arzel's Haven a completely wireless app-driven zoning system. It features a damper that communicates with the control and Comfort Controller, eliminating the need for tubing or wiring. The battery-operated damper has a light and sound feature to help locate it and pair it with its zone. Each zone gets a comfort controller to mount to the wall or combine with the interior decor.
The HeatLink F1960 potable water expansion system is now available in Canada and features Heatlink's PEX-a tubing, high-performance plastic and no-lead brass fittings. Other features include the brand's unique PEX-a expansion rings which utilize the superior shape memory of PEX-a to form a tight seal.
NIBCO PressG fittings are for use in copper pipe systems for compressed air and natural gas applications. NIBCO offers the only press fittings that are CSA certified for use in copper pipe systems for gas applications. The maximum operating pressure for natural gas is 125 PSI and temperature range is -40F to 180F. For compressed air, maximum operating pressure is 200 PSI. Available
in sizes ½-in. through 2-in.
Rectorseal's PRO-Fit Quick Connect is the new generation of refrigeration pipe fitting designed for ductless mini-split and ducted unitary, single-family residential air conditioning systems. It's an HVAC/R major refrigerant fitting system that doesn't require flaring, brazing or expensive crimping connection tools. After cutting, deburring and marking for proper depth, the refrigerant line installation requires just a few seconds to push into the fitting until the depth marking appears in the sight glass.
REED Manufacturing will be showing the cordless REED Pump Stick which provides an easy way to transfer water. Removing up to 15 gallons per minute, the pump uses common 18V-20V slide style batteries. Aluminum main body shaft outlasts the competition. REED Pump Stick ships with a two-ft. hose, or add four-ft. and seven-ft. hose extensions. Its slim design allows deep reach into small cavities.
The Roth Panel System is easy to handle, lightweight, and allows the installation of radiant heating in an existing house as well as in new construction. It can be installed over solid subfloor or concrete, walls or ceilings and is only ¾-in. thick for the ⅜-in. tubing or 1-in. thick for the ½-in. tubing. No overpour needed.  Well suited for high efficient construction like Net Zero or LEED.
The T2 eco ULTRA from Thermo 2000 is a high-volume electric boiler. This combination boiler-storage tank for residential use serves as a back-up energy source to the primary system in order to maximize output. It generates energy savings, takes up less space and is very eco-friendly. Due to its UltraSmart controller, the boiler provides improved comfort through precise temperature control. Nearly maintenance-free, the T2 eco ULTRA comes with a limited 15-year warranty.
Viega has introduced new sizes for its MegaPress FKM line, while also adding a new MegaPress 316 FKM line. MegaPress FKM is available in ½-in. up to 4-in. fittings for carbon steel pipe. For use in hydronic heating, compressed air, fire protection, cooling water, marine applications etc. With MegaPress 316 FKM fittings, Viega increases its stainless steel configurations by more than 150 SKUs.
The GMP4 is the newest addition to Calefactio's GMP line. It features a 15 L tank suited for mid-sized residential applications, and it can be used for glycol heating or cooling for systems holding up to 300 L. It comes with its own wall-mount rack, and the GMP4 is also equipped with an alarm floater so users can hook up a sound alarm and be notified when liquid levels fall too low, a potential sign of leakage.
Fieldpiece, manufacturer of hand-held test instruments for HVAC/R professionals, has introduced its new wireless power meters. They're packed with HVAC/R electrical measurements, are CAT IV safety rated and communicate directly with the Job Link System app to document electrical measurements.  Look for the SC680 swivel clamp and the SC480 mid-size meter.
Fluidmaster's PRO45H PRO Fill Valve with Tank and Bowl Water Level Control is available for professional plumbers. A quiet, more powerful fill valve, the PRO45H comes with the same standard setting as the PRO45 and PRO45B, but gives the ability to control both tank and bowl water levels. The toilet fill valve works with toilet types from 1 gpf up to 3.5 gpf, with the same code approved anti-siphon design.
GLP Canada will be showing Maytag HVAC products, a brand that consumers recognize with products trusted in Canadian homes for decades. Maytag offers a full range of residential HVAC products backed by a 12-year parts warranty. Maytag sales, parts, technical and warranty is fully supported across Canada by GLP Canada.
The compact eCAM Ace 100-Micro from IPS delivers everything you need to perform quick inspections in pipes ranging from 1 ½ to 3-in. diameter and up to 100 ft. in length. It weighs 15 lbs., making the camera suitably portable. The system comes with a 512Hz transmitter and a resettable on-screen footage counter. The video is streamed and can be recorded, streaming directly to any mobile device which can be used as a monitor.
From Maritime Geothermal, the Nordic air to water heat pump heats water for radiant in-floor heating and chills water for hydronic cooling in addition to pre-heating domestic hot water. The ATW Series is available in sizes from 2 to 6 nominal tons and a COP up to 4.3 and is uniquely designed for life in Canada. This heat pump is microprocessor controlled with BACnet communication for use in residential and commercial applications.
Modine's Lodronic low-temperature hot water heater is designed for use with high-efficiency boilers. The UL 1995-certified Lodronic is 15% lighter, has a 30% smaller footprint, uses 50% less electricity and offers quieter operation than comparable heaters. With units available in six sizes, the line offers models suited for any application, no matter how large or small.
Productivity and quality of life are affected by variants of air quality, temperature and humidity. To maximize performance and reliability, the Condair DL Series combines two adiabatic humidification methods, atomization and evaporation. Engineered to meet the standards of cost-effective, energy-efficient performance; it's designed for ease of installation, adaptability, operation, maintenance and service, control accuracy, hygiene, and long-term reliability.
The new EasySeal Ultimate is among the fastest and strongest refrigerant leak sealants on the market, but it now treats even larger HVAC/R systems. The new EasySeal Ultimate features rapid fusion technology for a stronger bond and now has the ability to treat systems up to 10 tons in one application. EasySeal Ultimate also comes in UV dye versions that feature brighter ultraviolet dye formula.
Ratech newest pipe inspection camera system is the Plumber's Helper Jr (PH-Jr). Based on a small-scale reel the system comes with 100-ft. mini gel rod cable, a removable compact command module with 7.1-in. LCD, built-in battery, and SD recorder for recording digital images and video. The mini pipe inspection system is available with a full spectrum 1.375-in. self-leveling colour camera, or a standard colour camera, or any one of three micro camera heads.
Building upon RenewAire's dedicated outdoor air system (DOAS) with fixed plate energy recovery, this product adds integrated refrigeration. It efficiently and sustainably conditions outdoor air, offering various refrigeration configurations including hot gas reheat. A configurable unitary platform provides single-source responsibility and streamlines design-to-purchase-to-installation processes. The result is an energy- efficient DOAS unit for all commercial applications, which also excels in low dew points.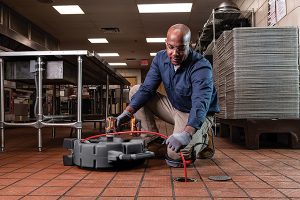 The RIDGID FlexShaft K9-204 drain cleaning machine delivers wall-to-wall clean in 2-in. to 4-in. residential and commercial pipes up to 70 ft. Lightweight and fully-contained, it is used in conjunction with a full suite of specialized accessories, including chain knockers designed for clearing grease, sludge, small tree roots and soft blockages. The K9-204 also allows for inspection cameras to remain in-pipe throughout the entire drain cleaning process.
The Riello Condexa PRO is a condensing pre-mixed fan induced modulating wall hung boiler. The Condexa PRO is available in two models, CONDEXA PRO 75 (255 MBTU), CONDEXA PRO 117 (399 MBTU) each can be combined in a cascade system up to six units. The cascade system is designed to provide a space saving and versatile solution for light commercial buildings or large domestic properties with three different options: wall hung installation, free standing side-by-side and a back-to-back.
New from Schuller Hydronics is the Schuller SMC-01 Wi-Fi snow melt controller. It features automatic and manual snow melt operations, location-based automatic preheat up to 12 hours based on real time weather forecasts from AccuWeather.com, along with a 0-10V analogue output iOS and Android app for remote access. It comes with slab-mounted stainless-steel temperature and moisture sensor with an outdoor shielded cable.
The new OmegaPlate single-valve outlet plate from Sioux Chief allows users to install valves at rough, which means fewer touches throughout the job, saving time with every installation. The OmegaPlate incorporates the valve, bracket, escutcheon, and debris cover in one simple product. No wobbly stub outs, exposed tube joints or inferior valves, OmegaPlate installations are always clean, solid, and professional-looking.
The PRIMA electric baseboard from Stelpro has a distinctive compact format that adapts to various applications without compromising on performance. Thanks to its safe and innovative housing design with concealed elements, it's easy to clean and maintain. Sleek and elegant, PRIMA adds a modern touch to any room.
The new 0034e from Taco outperforms all single and three-speed circulators in its class. The circulator features activeADAPT self-adjusting proportional pressure, SureStart automatic unblocking and air purging, and BIO Barrier which protects the pump from system contaminants. It also features 0-10V and PWM variable speed.
The Tecumseh Argus is an ½- to 6-HP air-cooled low and medium temperature condensing unit that meets or exceeds the Department of Energy AWEF and NRCAN energy regulations. By applying a combination of compressor and scroll technologies and optimizing around eco-friendly refrigerants, the company has developed a flexible, simplified platform with OEMs, contractors and business owners in mind.
Test Products International – Canada introduces the Bluetooth family of smart products allowing users to test, analyze, measure and manage, and create reports using the free TPI View App (IOS/Android compatible). Products include: DC710 gas combustion analyzer; SP620 smart probe differential manometer; SP341 smart probe differential temperature; SP565 smart probe IAQ hot wire velocity; SP1000 smart probe CO2 meter.
ZONEFIRST's new plug-n-play, pre-wired zone dampers include a modular (RJ11) telephone cord that wires to the zone panel or up 10 dampers on the same zone. It allows users to save time and money by not having to wire other dampers. The powerful motor also has a two colour LED, which is visible from 180 degrees, to indicate damper position. The zone panels have a push button to test each zone's damper(s).
Anvil Canada (formerly Anvil Craft Wrought Iron Ltd.) and US Stove Company have announced a new partnership to offer the full line of US Stove and Newmac products to HVAC Suppliers across Canada. Anvil is excited to revive the Newmac product line, since that is a unique product well-suited to many Canadian consumers. Anvil Canada, located in Mississauga, Ont., has been manufacturing crafted hearth products for over 35 years.
The Carlo Gavazzi DPB and DPC three-phase monitoring relay models feature an upgraded switch mode power supply, which provides a wider input voltage range to cover different mains voltages, while reducing heat dissipation and improving reliability and stability. The DPB series has an input voltage range of 208 VAC to 480 VAC, while the DPC series has an input voltage range of 208 VAC to 690 VAC.
The Ecotherm RCK-602 Plus controller for compressor rack systems is designed for commercial and industrial refrigeration applications with low and medium temperature. It monitors suction/discharge pressure or temperature using up to six sensors. It also has six relay and two analogue modulating outputs to control compressors and fans.
Fairview will be demonstrating their new one-hand connectable line of GAS-FLO gas appliance outlets. The smooth new automatic connection with audible pop-back sleeve reduces strain and frustration on the part of the user and takes the guessing out of whether a gas grill or appliance is safely connected.
Fieldboss has announced the scheduled release of its FIELDBOSS Version 4.0. As Microsoft updates the Dynamics platform, the company upgrades and adds client-driven new features and performance improvements. The focus of Version 4.0 is support for the new Dynamics 365 user interface, as well as the new Universal Resource Scheduler, which will provide a boost in flexibility, ease of use, and full drag and drop capabilities.
Foremost introduces Suto, an extra high-efficiency compact elongated 3L toilet. It not only has soft lines and elegant curves, it is also one of the industry's leading toilets in water conservation. The Suto is a blend of beauty and proficiency and sits at the top of the water-line.
GeoSmart NetZero variable capacity water to water inverter heat pumps are now available in North America. With a COP of over 5.0, the units can reduce up to 80% of the climate related energy consumption of a building using a variety of renewable energy sources. Ground source, air source or hybrid these inverter-driven heat pumps are versatile and intelligent, and unlike traditional heat pumps, the GeoSmart NetZero adapts to the needs of the installation.
IFLOW HVAC manufacturers hydronic furnaces across North America with a unique hydronic coils delivering peak efficiency. A fully modulating ECM blower (1~100%), WiFi and App enabling many smart thermostat functions and integrated multi-zone HVAC controller (up to four zones). iFLOW delivers efficiency and comfort to all parts of the home, cash-flow positive energy savings and a product warranty.
The K-FLEX TITAN is a flexible composite material jacketing factory-applied to K-FLEX NBR/PVC
tubular insulation. It meets the 2012 / 2015 / 2018 IECC residential and commercial codes, is 25/50-rated and offers flexibility, abrasion and weather resistance, making it ideal for outdoor applications.
Marketair has released the RoughinBox RBX-3 featuring five lineset entry ports for convenience. The system also features bottom and side condensate drain outlets to reduce installation time. The RBX-3 includes an extra lineset port and accommodates both side and bottom drain configurations. The patented RBX-3-MP-NC (multiple port-new construction) is a third-generation RoughinBox combining the bottom drain outlet of the RBX-1 and the side outlet of the RBX-2, which offers total installation flexibility for contractors and reduced sku's for wholesalers.
Mastercool's SPARTAN series digital manifold is equipped with a 4-in. colour LCD touchscreen. Now with a built-in vacuum sensor with an accuracy down to one micron, there is no need for additional equipment to diagnose and service an A/C system. Offered in two and four-way options, this manifold will display pressure, vacuum, temperature and will automatically calculate superheat and subcool. Both models allow for data logging and additional features such as leak test timers and alarms.
Oatey's Hercules Haymaker is a concentrated citric acid descaling solution for tankless water heaters. It is three times more effective than vinegar and 100 times more professional. Tag #worklikeherc on social media platforms when using Haymaker or any other Hercules product in the field throughout the months of March and April 2020 for a chance to win one of 50 Hercules prize packs.
PowerMate is a motorized electric hand truck for moving loads up/down stairs, on/off vehicles, loading docks and across flat surfaces while keeping the load in a safe, well balanced position. PowerMate does 100% of the lifting and is proven to reduce the physical effort to move heavy loads by 87%, saving backs and lost time off work. Most loads can be moved by one person instead of two or three.
The Sanuvox R Max is an evolution in UV for whole home air treatment. The high-efficiency patented design destroys airborne bio-chemical contaminants, while providing user information on the 3-in. back-lit LCD display. With the ability to treat homes up to 4,000 sq.ft., the patented technology purifies the air and removes odours within the home.
Sunraziant infrared heating panels are available in hardwired versions or an easy plug-and-play option, with zero emissions, silent operation and a carbon free design, this is a hypoallergenic, mold free heating solution. They're easy to install, come with zero maintenance and include a 25-year warranty. Combined with low energy consumption, these are real heating alternative.
www.sunraziantinfraredheating.ca
The PEM-ZR StabiliZR gauge from Winters is available in 1-½ in. up to 4-in. dial sizes, bottom and back connection from ⅛-in. to ¼-in. NPT and ranges from vacuum to 5,000 psi/kPa. This is a general purpose gauge that can be used for plumbing, hydraulic and other applications where pulsation and vibration are present.
Using heated diode sensor technology from Bacharach the H-10 PRO is a highly responsive universal refrigerant leak detector. It's ultra-sensitive to all halogen-based, non-flammable CFC, HFC and HCFC refrigerants. Other benefits include a long 4.5-ft. probe for leak detection in hard to reach areas, an internal sensor calibration reference to ensure optimum performance, ability to detect refrigerants as low as 0.006oz/yr including R-410a and R-507, audio and visual indicators; and a three-year warranty.
The PlumbingVoid System provides and ensures a void space completely around plumbing pipes under structural slabs. Offered in three widths and three heights to accommodate a variety of slopes and pipe diameters, it temporarily suspends and fully isolates pipes from backfill and underlying, swelling soils. Spanning washers allow the system to move independently if uplifting pressures are applied. Soil can expand into the empty space provided, thereby eliminating damage from broken, leaking pipes.
www.canada.voidform.com/plumbingvoid
Enginuity Power Systems is bringing private home power generation into the mainstream with its micro-Combined Heat and Power (CHP) system. By simply replacing your conventional gas-fired water heater with its 6.2 kW residential power product, home owners get all the heat and power the need from clean and reliable natural gas. Save money, be your own utility.
GLO Seal pinpoints the exact location of all leak areas and seals AC&R micro-leaks from the inside. GLO Seal is concentrated and suited for fighting corrosion problems, making it a robust find-and-fix solution for AC&R systems. It can be used for 24/7 leak detection and HVAC preventative maintenance. Two different injection delivery methods appropriate for treating AC&R systems, including high-pressure R-410a systems.
The Universal Zebra System (UZ-1) is a collection of tools designed to assist technicians with diagnosing ECM problems. Multiple ECM motors are entering the HVAC/R marketplace and being adopted by most equipment makers. UZ-1 comes with Adapter "A" which fits the common GE/Regal Beloit Series 2.0 and 2.3 motors. Inside the lid is a place to secure each adapter's corresponding overlay card, which describes the functions of each switch and LED for that specific motor.
The Triple+ CLM (cloud-based leak management) system detects and prevents water leak damage. The system can be controlled by the Triple+ App in real-time. It allows for closing open water faucets or an automatic closure without human intervention when detecting a water leak, abnormal water flow or flooding. In cases where a leak, flood, freezing, or low battery level is detected, an alert is sent to the App backed up with email, text and voice call.
D-TEK Stratus combines the leak detection of INFICON D-TEK leak detectors with the cloud hunting capability of a portable monitor all in one hand-held unit. Quickly locate the area containing the leak using the large LCD display, and then pinpoint the leak all with one instrument. D-TEK Stratus is the next big thing in refrigerant leak detection.
Adding to the growing FLEXVOLT System, the FlexVolt 60V Max's high-performance brushless motor delivers long runtime in demanding applications, without the hassles of power cords and wherever the jobsite is located. At 9.4 in. tall, 26.38 in. long and 19.98 lbs. (tool only), it accepts a pipe capacity of 1/2 to 2 inches. It has a right-handed thread direction and its die and die head materials are made of highspeed steel and cast iron respectively. Dewalt's Pipe Threader is also compatible with RIDGID 12R** style die heads and the Dewalt E-Clutch system.
With the Hathorn Micron Wi-Fi reel, you can inspect 1 ½ to 3-inch pipes without the need for an expensive control module.  At 16 inches in height with 100ft. cable, and compatibility with the leading brand of 18V batteries, it is the ultimate in portability.  High definition video is viewed/recorded with the free Hathorn Wi-Fi app. Videos are saved in your photo folder and allow for audio commentary. Videos can be sent via text/email or to the cloud.
The newly redesigned Kimo DBM 620 Air Flow Meter is a multipurpose electronic air balancing instrument primarily used for efficiently taking direct air volume readings from air vents. Lighter and smaller than previous models with a newly patented folding frame and space-saving hoods storage, the SmartKap App allows for easy reading and export of data. This is the only unit of its kind to have ACR function (Air Change Rate) integrated into the system.
The 2020 Ram ProMaster offers a unique combination of best-in-class features and attributes that can provide your business with a competitive advantage. Driven by the award-winning 3.6L Pentastar V6 engine, it delivers 280 horsepower and 260 lb-ft of torque and is paired with a 6-speed automatic transmission with standard tow/haul drive mode. The ProMaster is versatile, flexible and very upfit friendly and features combined capabilities in towing and hauling that makes it perfect for virtually any enterprise, no matter how challenging.
MIFAB's QuickHub No Hub Couplings fit effortlessly onto pipes and fittings. They are the fastest installation on the market, and there is no need to remove the gasket first and roll it over the pipe. The patented hourglass shape design ensures the gasket remains within the shield during shipping/handling and allows the QuickHub to be easily pushed on the pipe.
Tankless, Inc. three-phase water heaters from Stiebel Eltron offer a reliable and efficient way to heat water in demanding commercial, industrial, and safety applications. Available in all common three-phase voltages including 208, 240, 480 Delta or Wye, 575 V. The general purpose CF series has a fixed temperature output while the CE Series provides an adjustable one. The CERO and CES Series are for caustic liquid heating and emergency shower and eyewash station safety applications.
The MAGNA3 is an intelligent circulation pump from Grundfos for large buildings and all types of HVAC systems. It simplifies operation with user-friendly controls and settings. The pump's AUTOADAPT setting automatically analyzes the heating system, finding the optimum setting and then continuously adjusting its operation to changes in the building's demand. The result is optimum comfort and minimum energy consumption.
The TRX Series from NTI are high-efficiency wall-hung boilers with stainless steel heat exchangers with large diameter tubing. Every unit is equipped with embedded Wi-Fi connectivity providing remote control and monitoring. The boilers come in heat only and combi versions. An integrated ECM pump and diverter valve are included on all models. All internal components utilize bayonet quick connectors, eliminating the need to braze or solder within the unit.
TracPipe corrugated stainless steel tubing (CCST), the flexible gas piping from OmegaFlex, is used for natural gas and propane installations. TracPipe, available in sizes from 3/8-in. to 2-in., is currently used for gas piping systems in single and multi-family residential as well as commercial and industrial buildings. TracPipe's corrugated tubing, coupled with simple and effective AutoSnap fittings combine to form a complete CCST solution.
Operating your boiler with an optimum amount of excess air will minimize heat loss and improve combustion efficiency.  Combustion efficiency is a measure of how effectively heat content of a fuel is transferred into usable heat.  Weishaupt Monarch Burner installed on natural gas fired boilers produces an excess air level of 10%.  Boiler efficiency is increased by 1% for each 15% reduction in excess air or 40 F reduction in stack gas temperature.
Tools and machinery manufacturer, Wassertek, will introduce a threading machine at CMPX 2020. The threading machine, which is used for continuous threading of steel pipes for BSPT/ NPT suitable for pipe sizes from ½-in. up to 6-in. The machine is equipped with a heavy duty induction motor, HSS dies and forward and reverse option.
Powerful and built to industry standard, the VOLTstack from Toyota Tsusho America is the clean energy alternative to traditional gas and diesel generators. While gas generators are extremely loud, the VOLTstack makes no noise – perfect for areas with noise restrictions and overnight use. It also produces no emissions since it is an electric generator, increasing safety and eliminating the need for excessive cabling.
Corro-Protec's Powered Anode Rod is a long-term protection solution compared to the existing sacrificial anode on the market. As the sacrificial anode already in place in the water heater undergoes a high transfer of electrons in case of aggressive water, the life of the hot water tank can be affected. By forming a protection layer on the tank walls and its weak points, the Corro-Protec provides the water heater with a permanent protection against corrosion, regardless of the water's hardness.
Cayman Tape's pure aluminum tape is made to meet all levels of performance requirements in any weather condition. It's high textile strength allows it to stand firm in the face of water and corrosion, while it's high performance glue enables it to firmly bond onto various irregular surfaces, including but not limited to, aluminum foil composite materials, various glass wool/rock wool insulation boards, and pipes and ducts, guaranteeing a lasting seal.
New from Forbest is the world's first patented Hands Free voice-controlled Pipe Inspection Camera System. With voice control, you can operate the self leveling camera; P/T camera head and crawlers, take the snapshot and record videos on the 10-inch LCD colour control station. All features of the control station can function with voice control. Bluetooth mic is available for the remote control.
Functional Devices' 500VA Power Supply with High/Low Voltage Separation offers safety by separating low voltage from high voltage in two wiring compartments. This model has a 500VA transformer that features five isolated 100VA, 24Vac Class 2 outputs, each with an on/off circuit breaker switch. A 120Vac receptacle on the outside of the enclosure is available as an additional feature.
Heat-Line SurgeBLOK employs Strikesorb, non-MOV, non-sacrificial surge protection technology offers reliable surge protection for the entire home or commercial establishment from transients, over-voltages and lightning. SurgeBLOK protects every circuit from the electrical service. The most reliable surge protection technology now offered in a simple, easy to install platform.
ICOOL Canada, a subsidiary of ICOOL Global of China, a manufacturer and exporter of HVAC products, will be featuring ICOOL line set packaging options in PE – white insulation and black rubber insulation. Options include standard plain end line, mini-split twin tube, insulated copper tube (single line), plain end fully assembled (taped).
Marking Services Canada offers AIM Mobile Technology delivering on-demand 24/7 access to critical asset information. AIM is a user-friendly asset and document management system built for safer and more efficient operations. MSC QR coded tags provide a direct link to reliable asset information, accessible when installed on valves and equipment in your operations.
The Mercedes-Benz Metris Cargo Van manoeuvres through tight city streets and glides beneath underground garages to tackle jobs others can't. No matter your day's demands, you'll find a Metris Cargo Van upfit tailored to your business needs–from necessary elements, to worthwhile accessories. Canada's only mid-size commercial van, the Metris seamlessly adapts to your workday –however versatile it is.
Oasis Therapy Insoles are a therapeutic insole. The insoles absorb shock which is beneficial for your ankles, knees hips and low back. They massage your feet which helps increase circulation to alleviate tired and aching legs. They also provide arch support. They are excellent for standing, walking and working.
The GAS PLUG from Western Water and Gas Products is a means of safely and securely connecting a stove or dryer directly to an existing home gas supply system. This unit is designed to be tucked away neatly in a wall cavity so the appliance can be pushed flat to the wall. Available with or without a quick disconnect coupling, the design allows for the quick disconnect to be added in the future without having to shut down the complete system.
Sumner's 2118 long narrow mast design reaches taller heights with fewer masts and less weight. The standard 10" Wheel kit makes navigating through Jobsites easy. With a large variety of accessories like pipe cradles to install tubular duct, fork extensions for wide square duct and a steel tray for installing coils and heat exchangers, it's the right tool for any job.
The Xpert Alert WiFi indoor alarm system from SJE Rhombus helps protect homes 24/7 from damage due to flooding, pump failure or freezing pipes. It monitors and reports any residential alarm condition, notifying home0wners locally and via text/email. It uses an existing Wi-Fi or Ethernet network, meaning no monthly fees or contracts. The sleek design incorporates an LED alarm light ring that illuminates for alarms 1 and 2.
When thinking of coil cleaning, do you think of steam? The SpeedClean dry steam coil and surface cleaner is a solution for cleaning mini-split coils, refrigeration coils, PTAC units, and more. The secret is the 65 PSI, 235F "dry" steam, which contains less than 10% moisture by volume, and quickly cleans dirt and debris, grease and oils and leaves coils clean and mold/mildew free.
This Goss GX-10K professional duty torch-gun includes trigger ignition and is great for soldering, brazing, and general heating applications. Hotter turbine flame heats parts faster, instant ignition trigger, flame adjustment valve, flame lock button, built-in hose swivel, hose connection "B", 9/16-18 LH fitting. For use with propane and mapp style propylene fuels only.
Fernco's Icon Pushfit Connector system is available in 4 and 6-in. diameters. The internal pushfit connector system means the system can be installed in less than 30 seconds and requires no extra installation tools. It is ideal for the connection of plastic (SDR35, Sch 40), copper and cast iron. It can also be removed and re-used for future applications.
Etal develops and supplies AWS-standard and proprietary brazing alloys to the North American appliance and HVAC/R industry. Providing material in bulk pack, rod, coils, and preforms, the product is packaged in thick plastic tubes with rubber, colour coded caps and also in 20-lb. bulk boxes. All the bulk packs and tubes are charged with nitrogen; therefore eliminating any opportunity for contamination or oxidation.
Nowa 360 detects the leaks, alerts the master unit and the valve shuts off the water main. Users receive an email, alert or text to inform them if something happened and the main water valve has been safely shut off. Wire the valve to the control panel, the rest is amazingly simple. No additional wiring, no tools— just you, your device and Nowa.
Patent-pending and versatile UNU control from Desert Spring Products combines Humidistat and Pulse water-flow control functions into a single duct-mount unit with unique digital E-ink display. The integrated control comes with new functionality and features to maximize both humidifier performance and water-efficiency. UNU is easy to install and can be used as stand-alone local control device, or Wi-Fi connected with App for remote access. UNU is backwards compatible with existing DS-Pulse humidifier installations.
The Cush-A-Nator from Zsi is made from a proprietary thermoplastic vulcanized material cross-linked with high performance rubber and thermoplastic elastomers, which produces a high operating temperature range. Designed and manufactured in Michigan, its provides the user with a choice of the highest heat range resistance of any cushion on the market.
Variable Volume Box 6-in. with Cross from Coratech uses 22-gauge satin-finish galvanized steel construction. It has a 12.5 mm ( 1/2-in.) acrylic coated fiberglass interior sound insulation with a fibreglass reinforcing fabric. The insulation complies with NFPA -90A & 90B, SMACNA standards, Can/ULC S102-M88 and CGSB 51 GP-11M. The 12.5 mm ( 1/2-in.) drive shaft compatible with most actuators. It features a double-layer shutter with Polyolefin seal. Pressure loss is measured at maximum rated volume, damper fully open.
HVAC Know It All, Gary McCreadie, will be capturing highlights of the CMPX Show in unique fashion. The show, its people and its vendors will be highlighted in podcast interviews, images and video will be posted to social media feeds such as Instagram, Facebook, LinkedIn and Twitter.
www.hvacknowitall.com
Advertisement